Simplicity Summer Home Decor Ideas to Brighten up Your Home
Views : 545
Author : Joyye
Update time : 2022-08-19 16:32:31
Simplicity Summer Home Decor Ideas to Brighten up Your Home
Catch the tails of Summer! 2022, this summer home decor ideas are all about the aesthetics of simplicity. Combined with the latest designs from Joyye, it is going to introduce the best parts of summer home decors into your home in 3 different styles.
Let's brighten up your home this summer.
1. Minimalist Design
Minimalist design is the basic style, it brings things back to basics. The style of minimalism is more about functional objects, geometric shapes, clean lines, and neutral color choices.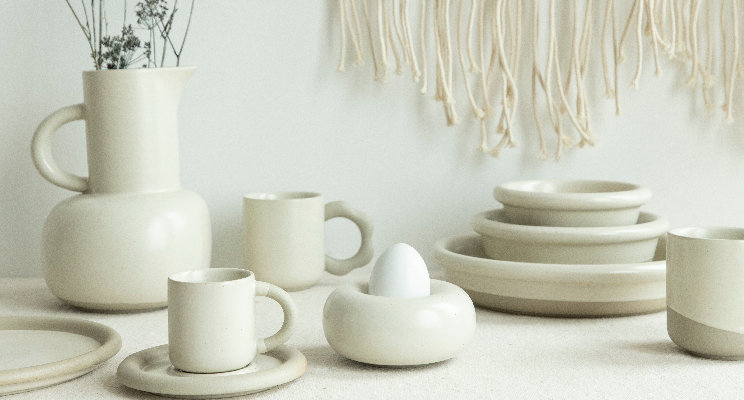 (1) Design Decor Essentials
A. Neutral Color Palette
The color palette can be set with similar color tones and textures. A neutral color palette usually includes whites, creams, greys, blacks, and other pastel colors.
B. Play with Textures
Enjoy having fun with textures! Although there are fewer patterns and colors, the different textures can also play with various surfaces. You can also bring in textures with your home decors.
C. Embrace Flat Surfaces
Leave it alone, the complex shape. When it comes to minimalist design, it is about clean, flat surfaces and geometric shapes, which makes the room spacious and comfortable.
D. Go with Clean Lines
Embrace clean lines that bring the room a tidy and methodical touch. It creates another feeling of cozy for the space. Each minimalist style might go with clean lines first.
(2) Minimalist Design Home Decor Ideas
Less is more. Keeping it simple and functional is the first rule for Minimalist design. Home decors are needed to be minimum but still make your home feel warm and comfortable.
The Simple Speckled Mug by Joyye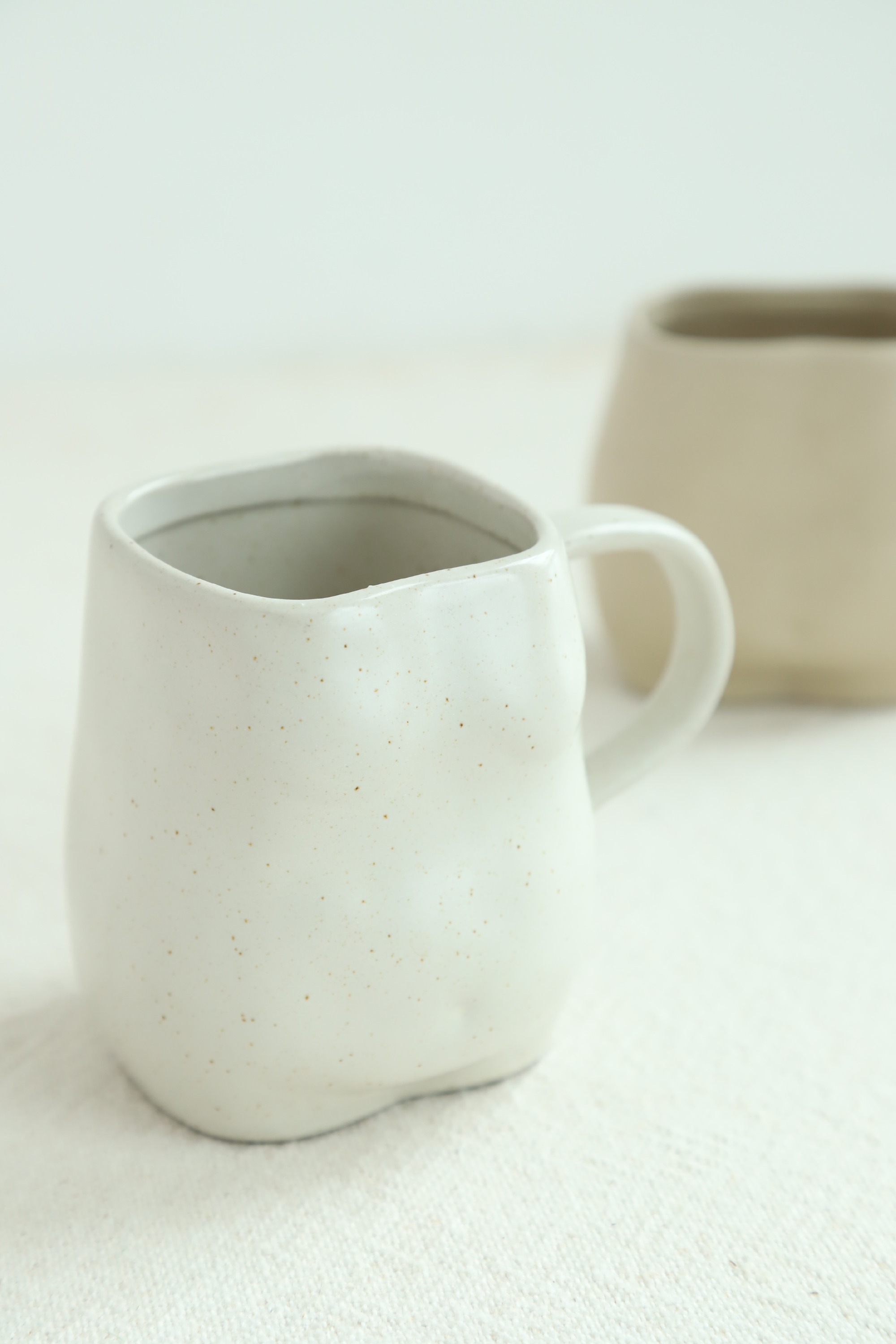 Detailed designs bring simple beauty. Featured with an organic shape, this mug is made in tiny speckle stoneware with a rectangle top. Glazed in off-white, it adds an artistic and modern touch.
The Minimalism Double Walled Plates Design Tableware Collection by Joyye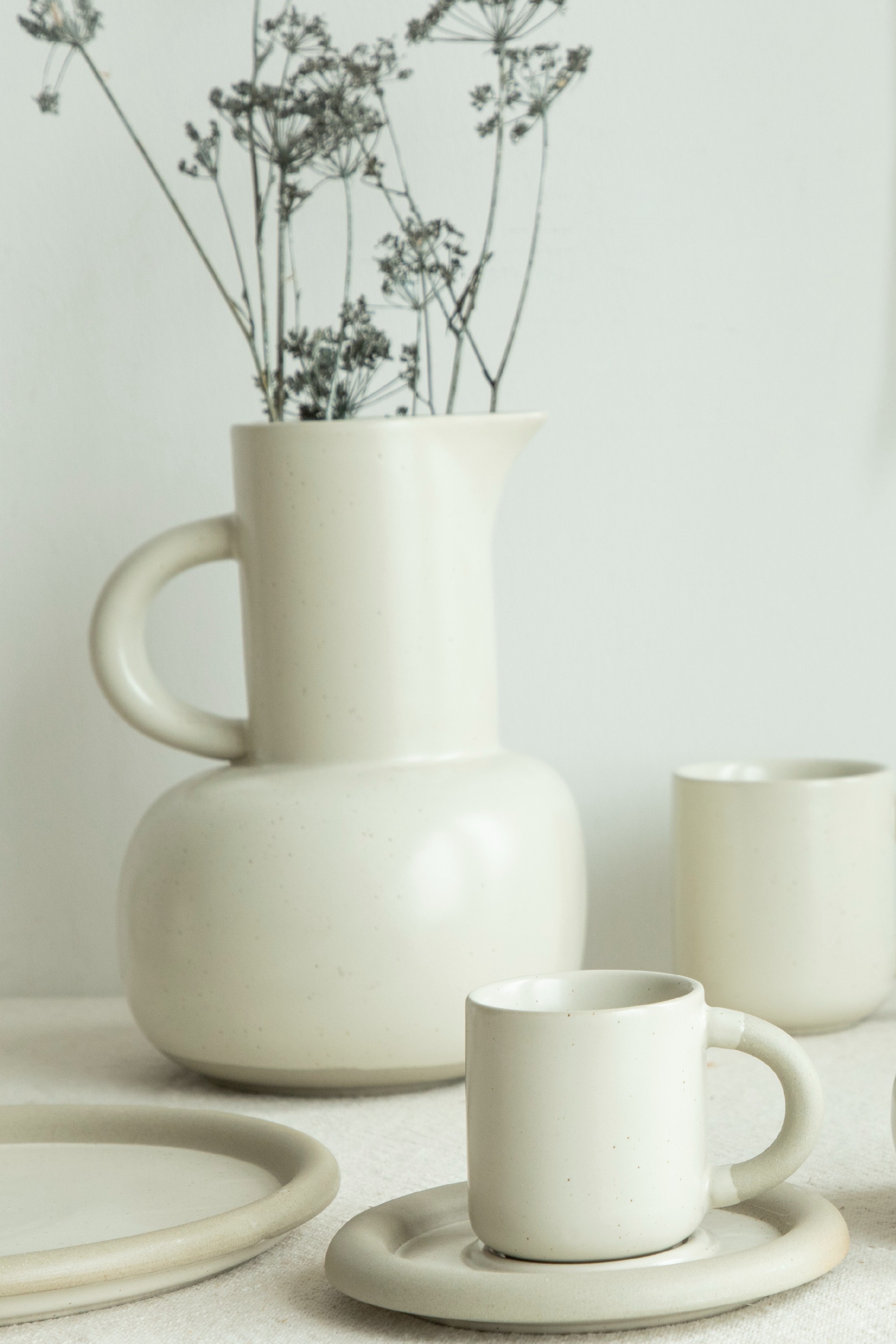 Double walled plates design for tableware are pretty and practical. Especially in simple light white color, making this tableware collection natural and quiet. Perfect for minimalist art and elegance.
The Twilight Bakeware Collection by Joyye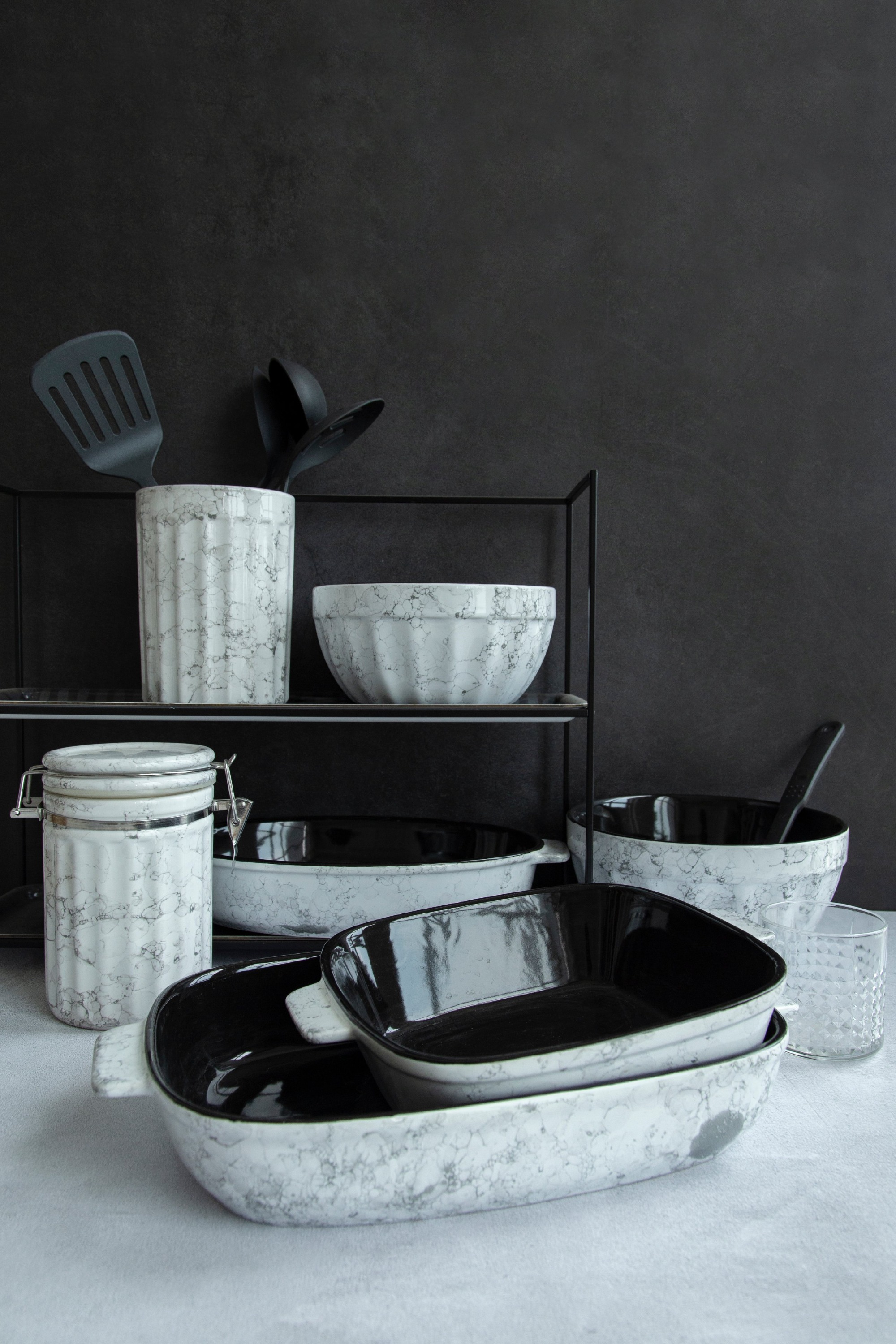 Made of black and white stoneware with a water mist shape glaze, Twilight Bakeware Collection is inspired by the dusk. Also available in different shapes and sizes for every home style.
The Artistic Candle Holder Collection by Joyye
Crafted of stoneware with a tiny grey speckled glaze, this candle holder grows a minimalist ambiance with the irregular taper shapes against a white backdrop. The taper or pillar bottom and archtops make this candleholder an eclectic vessel for tall candles.
The Purer Vase Collection from Joyye
Made of white stoneware in speckled design, the Purer Vase Collection provides a muted sense to the room. Combined with geometric aesthetics, they are formed in versatile shapes. Given you a smooth touch feeling, it is a collection that is perfect for your home decoration.



2. Scandinavian Style
This beautiful, inviting, and practical style features bright light, clean lines, artistic minimalism, and functional objects. It provides a warm, cozy, and simple beauty vibe for the space.




(1) Design Decor Essentials
A. Choose Muted Colors
To create a clean and calming look, Scandinavian color palettes choose muted colors and soft hues, like whites, blacks, greys, dusty pinks, soft greens, and grounded tones. It makes spaces more visually spacious and simple while adding some warmth and personality.
B. Enjoy The Beauty of Textures
Getting inspired by nature, Scandinavian design enjoys the soft textures of natural materials. Soft textures give us a feeling of coziness, adding visual layers to the room.
C. Follow The Organic Lines
As Scandinavian design is all about simplicity, its home decoration also goes with this basic. Follow textures of natural materials, go with organic shapes of objects, and any decors like vases or candle holders could be pieces of art.
D. Have Fun With Vibrant Patterns
Patterns like marble effects, splash, and other free-forms in bold colors are beautifully contrasted with a light-colored backdrop. It could liven up the vibrant vibe of the space.
(2) Scandinavian Style Home Decor Ideas
To get a Scandinavian look, use textures, and soft hues to make a warm and inviting feeling. It should be simple, beautiful, and cozy.
The White Half-Dip Hang Glaze Tableware Collection by Joyye
Simple makes things charming. When half-dip glaze in white hangs on the tops of the vessels, the exposed clay becomes the bottom color. It is a natural combination and also delivers a quiet vibe. With this tableware collection casually arranged on the dining table, it is effortlessly chic.
The Dusty Cold Green Splashed Dinnerware Collection by Joyye
Combined brutalist with an artistic style, the eye-catching tableware collection comes in an irregular splash finish and dusty cold green tones. To meet the demands for a whole-style tablescape, it contains different types of vessels.
The Chic Rope Ceramics Candleholder Collection by Joyye
Shaped like twisted ropes, this ceramic candle holder set comes in smooth finishes. Glazed in matte orange tones, the simple color combination keeps the attention on the unique vessel. Perfect for holding tall and twisted candles, it makes a distinct chic statement for your room.
The Artistic Splash Glazed Vase Collection from Joyye
Irregular splashed design glazed on vases adds an artistic style to your room. Shaped in a huge size but with a narrow top, it is a good option for home decoration with dried flowers arrangement.
The Magic Wonderland Vases and Planters by Joyye
With its organic shapely vessel and exposed clay in speckles finish, this handmade vase collection has a charming appeal. Colored in 4 tones, bring a rustic and artistic style to your decor, enriching your options. Placing it in any room is a perfect way to add a great addition to your decor.
3. Summer Chic
Summer is such a vibrant season that we need to bring in some lighter hues and simple clean textures to balance the feeling of the space.




(1) Design Decor Essentials
A. Get Purer and Lighter Colors
Blues, greens, yellows, and pale wood colors, come from summer nature and are brought into the space now. But they get purer and lighter—are perfect to bring a hint of chic, relaxed summer art to the room.
B. Add A Touch of Clean Lines
Stripes are always classic design elements in the summertime. Patterns with clean lines can also refresh the spaces for more comfortable.
C. Bring The Outdoors In
It is a great idea to bring an organic vibe to the rooms for summer home decoration. Adding the weaving elements is trendy.
D. Going with Florals and Plants
Fresh florals and plants can liven things up, they could bring natural beauty to any room and add a graceful touch.
(2) Summer Chic Home Decor Ideas
To ease into a summer chic style with a combination of purer and lighter colors, clean lines, and simple patterns, create a fresh vibe for the summer space.
The Romantic Summer Ceramics Candleholder by Joyye
Shaped like a taper with a flat bottom, the set of colorful candle holders comes in tiny speckled glazes with biscuit-like handles that complement your tablescape for a romantic look.
The Zebra Stripes Colorful Ceramic Mug Collection by Joyye
Glaze stripes and colorful shiny finishes on mugs, make it look lovely and dynamic. A tea party should be full of these adorable table decors.
The Chic Organic Stripes Ceramics Tableware Collection by Joyye
Inspired by florals, the organic, clean stripes make this ceramic tableware collection a chic modern look. With its unique edges and soft tones glazed finish, it adds a quiet charm to your table. This pretty ceramic tableware set is great for everyday use.
The Little Raindrops Cookware Collection from Joyye
Blue and white provide us with a muted feeling. Made of white stoneware in blue dots design, the bowl becomes a spotlight in this cookware collection. Different shapes of plates are designed in speckled form, just looking like raindrops on the winter lake.
The Modern Cylinder Ceramic Vase Collection by Joyye
Shaped in a cylinder with bit arched edges on the top, this set of 3 vases comes in different hues finishes, featuring textures resembling marbles or woods. It is an inviting addition to contemporary home decor.
Joyye provides multiple creative ceramics homeware focused on quality and professional one-stop services. For more customization details, please contact us at https://www.joyye.com/