How To Choose Your Ideal Ceramic Table Lamps?
Views : 438
Author : Joyye
Update time : 2022-07-20 17:34:14
How To Choose Your Ideal Ceramic Table Lamps?
Table lamps are essential elements of any room in the house. They perform an important role in lighting while creating a decorative look at home. Here is a guide to learning more about table lamps-especially ceramic table lamps, and how to choose the right one to fit your decor.
1. Light Your Home With Ceramic Table Lamps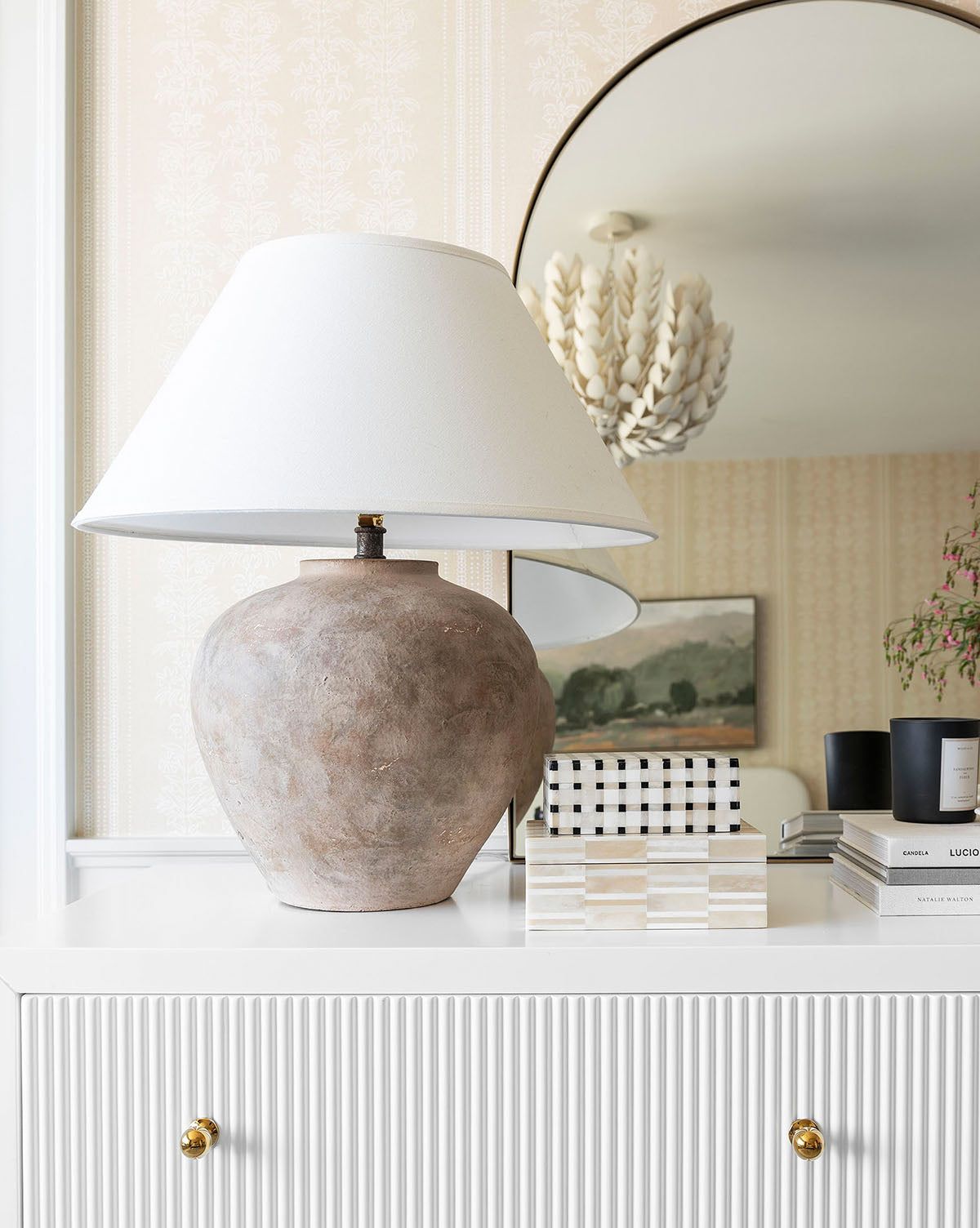 (Picture Source: Pinterest@McGee & Co.)
Lighting is important for any space in your house, from entry to living rooms, working spaces to bedrooms. Or just wants to add a little bit of light in the corner.

Table lamps can be used in larger spaces to create a uniform illumination throughout the room. Hence, you can use them without lighting up your whole house. They could provide you with sufficient light to work with.

Table lighting is ideal for adding an ambiance feeling to any interior. As they are available in various materials, sizes, and styles, the perfect lamps are great pieces to add color and textures to home decor. Moreover, the right lamp could create visual effects and deeply impress your guests.

With a base crafted of ceramic, its construction is durable and easy to care for and clean up. Also, tons of shapes, sizes, and styles you can select on the table lamps made from ceramic. Ceramic table lamps are outstanding lighting options for any house.
2. Select The Right Table Lamps
(1) Functional Lamps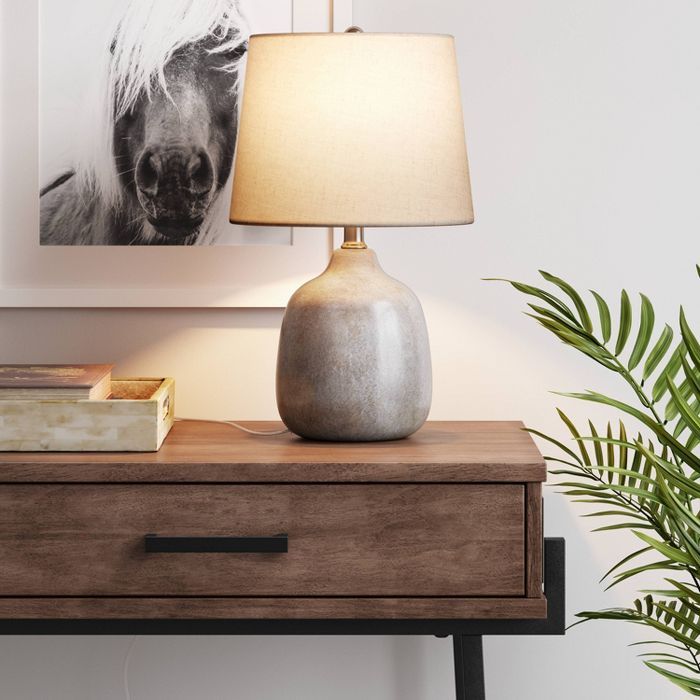 (Picture Source: Pinterest@Target)

Used for lighting the hallways or placed in the entry area, the lamps feature functions illuminating your home. Or take on home office desks and working spaces, the lamps will give you a focused light to help you with your work.
(2) Decorative Lamps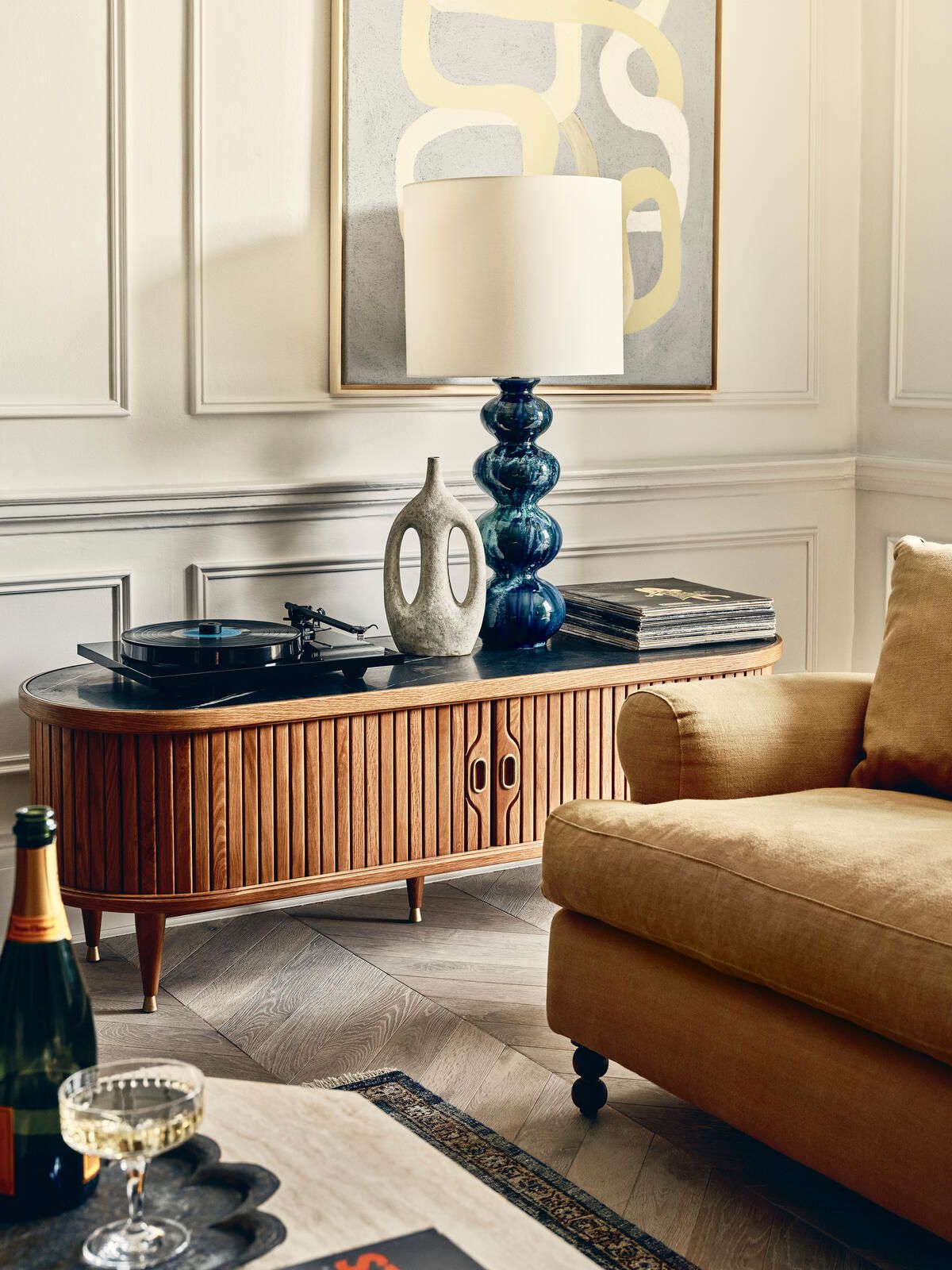 (Picture Source: Pinterest@Soho House)
Available in different materials, sizes, and styles, decorative lamps add a decorative touch to any room in your home, from the living room to the bedroom. They could help to balance other interior elements in the house.
3. Adds Lighting Charms To Your Decor With Different Styles
Decorative illumination not only improves lighting in your room but also adds a charming ambiance to your decor. Light up your home with table lamps in different styles.
(1) Modern-Chic Styles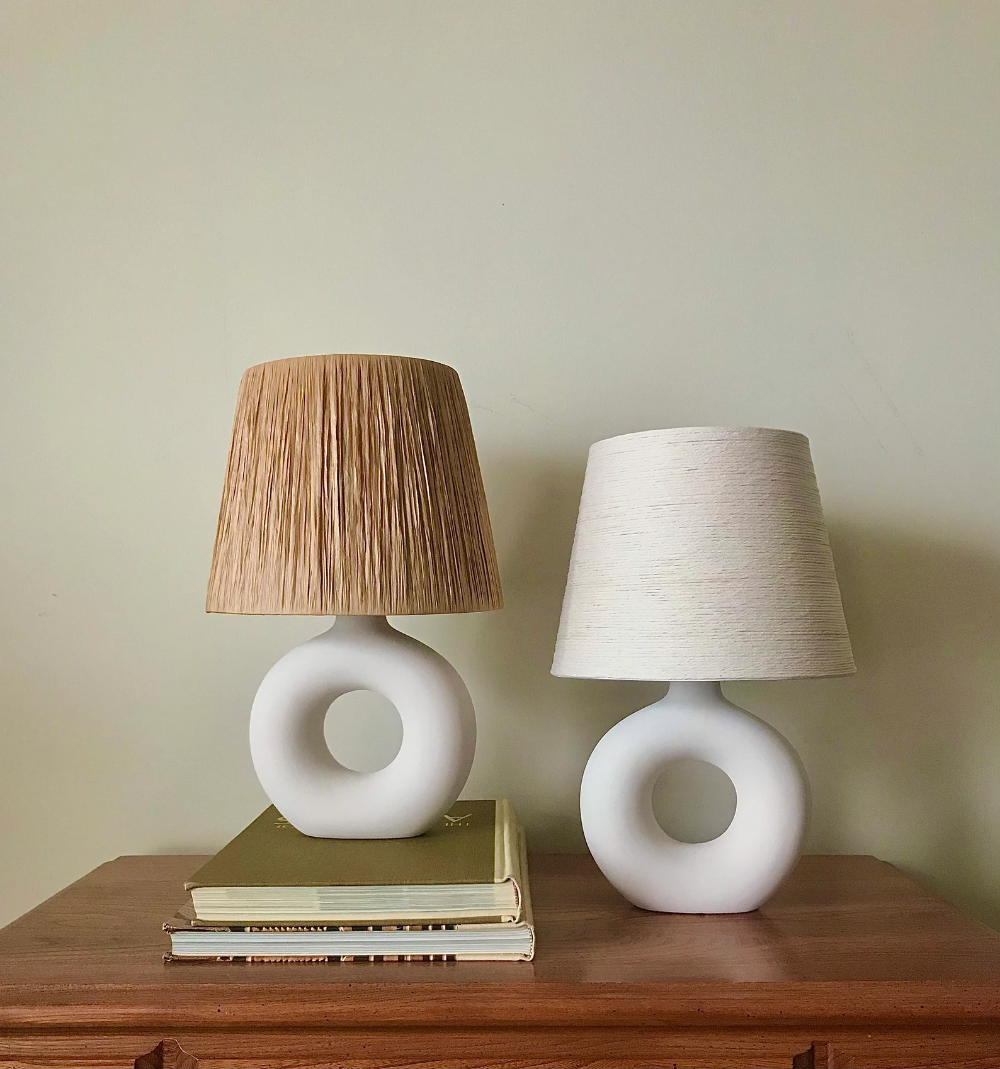 (Picture Source: Pinterest@Etsy)
For modern interior style, table lamps usually go with materials and details like metal, cement, glass, and bronze. You still can add a chic accent to your room with a ceramic table lamp. Light or soft backdrop hues, delicate debossed or embossed details on surfaces, or glazed in stunning finishes or patterns, a ceramic lamp can create a modern-chic appeal to living rooms and hallway side tables.
(2) Vintage Looks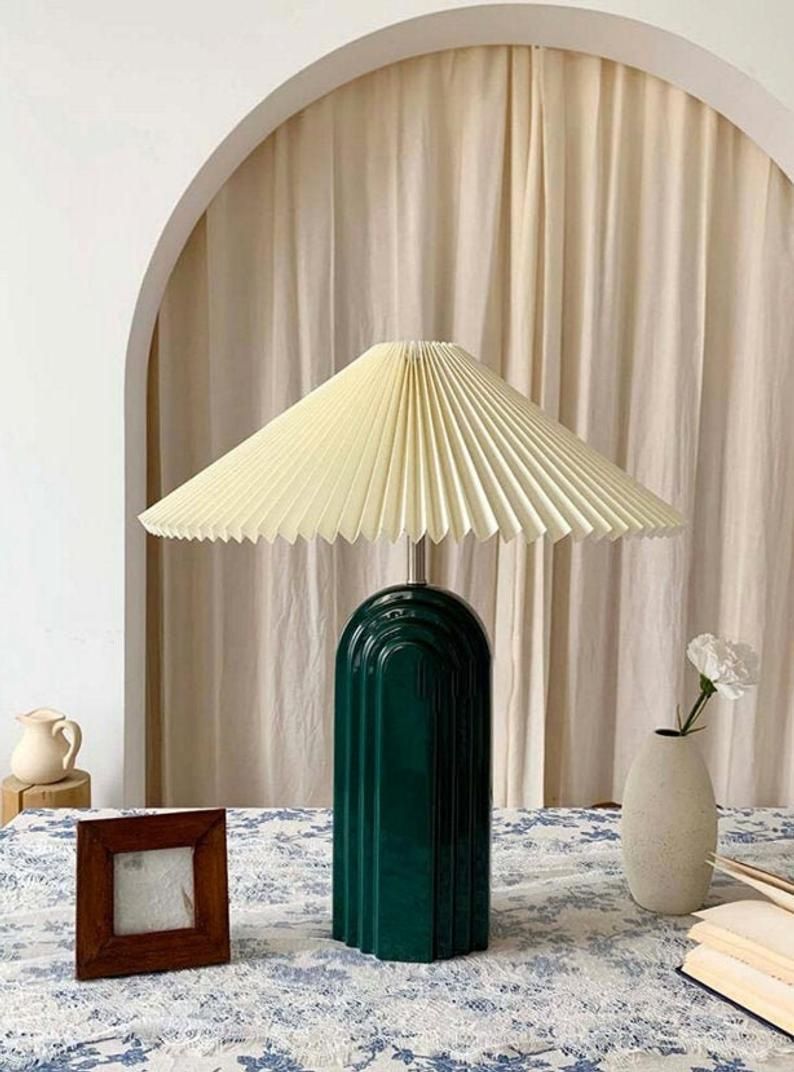 (Picture Source: Pinterest@Etsy)
To enhance a vintage look, the ceramic table lamps feature a smooth dark finish with slight antiquing sense details to complete the vintage look. It works well on the sides of the sofa in your living room, buffets, or bedsides in your bedrooms.
(3) Classic Appeals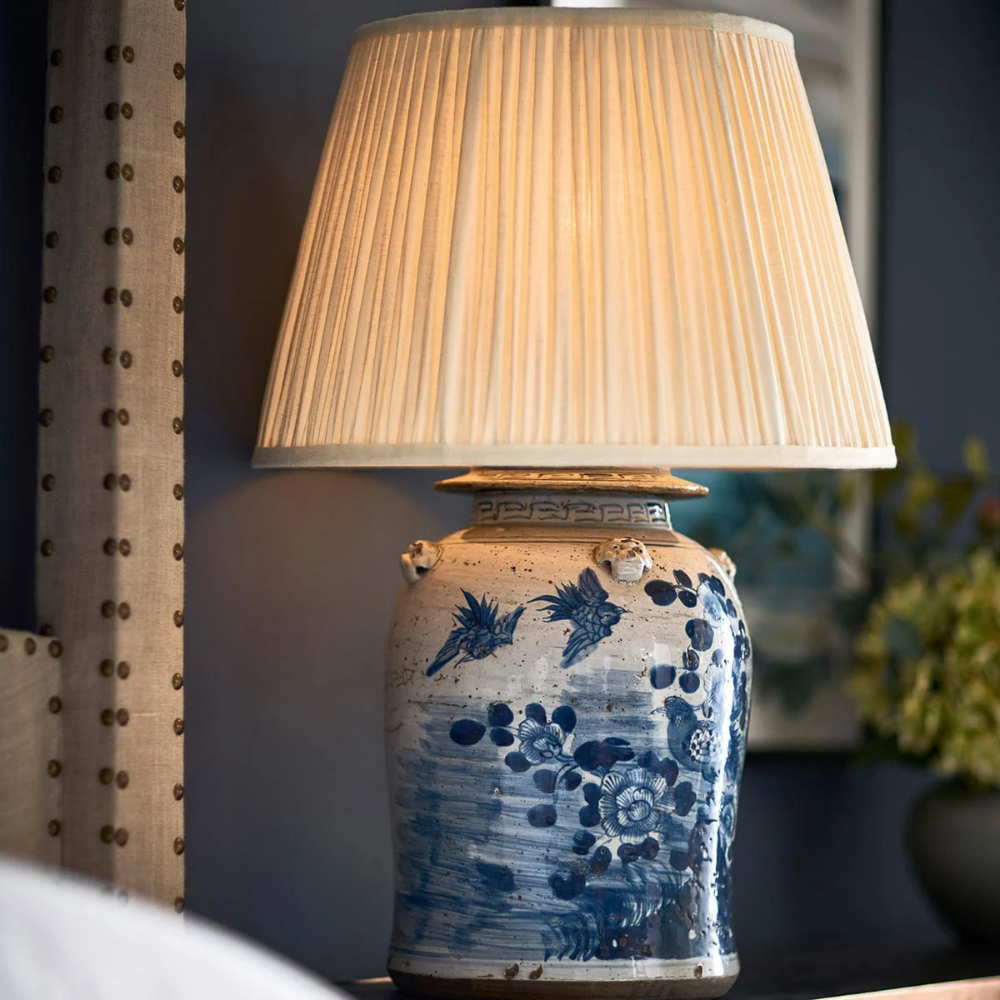 (Picture Source: Pinterest@OKA)
If a classic look appeals to you, you may focus on the shapes of a ceramic base and the classic patterns or color combinations on them, urn shapes, flower patterns, blue and white, black and white, etc. They offer more formal looks for the classic style of the house and are perfect for console tables and study rooms.
(4) Rustic Feelings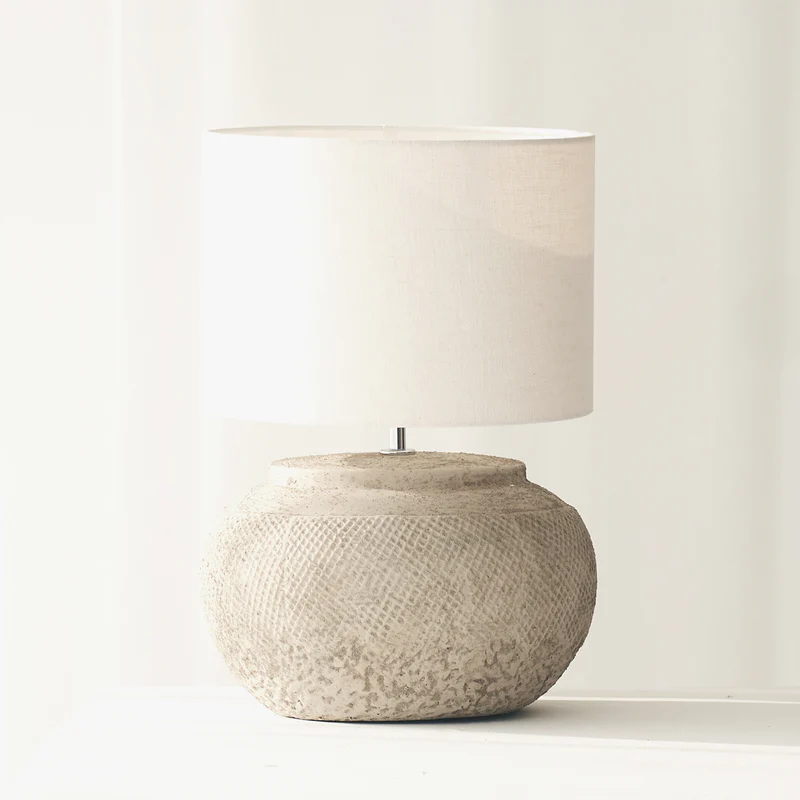 (Picture Source: Pinterest@Originals Furniture Singapore)
If you are seeking out a rustic style for your home, pick up the lamps that come in speckles, weaving rattans, rope-liked shapes, and exposed clay, all in-ground tones. It is a collection suitable for living rooms to make a rural setting.
(5) Minimalist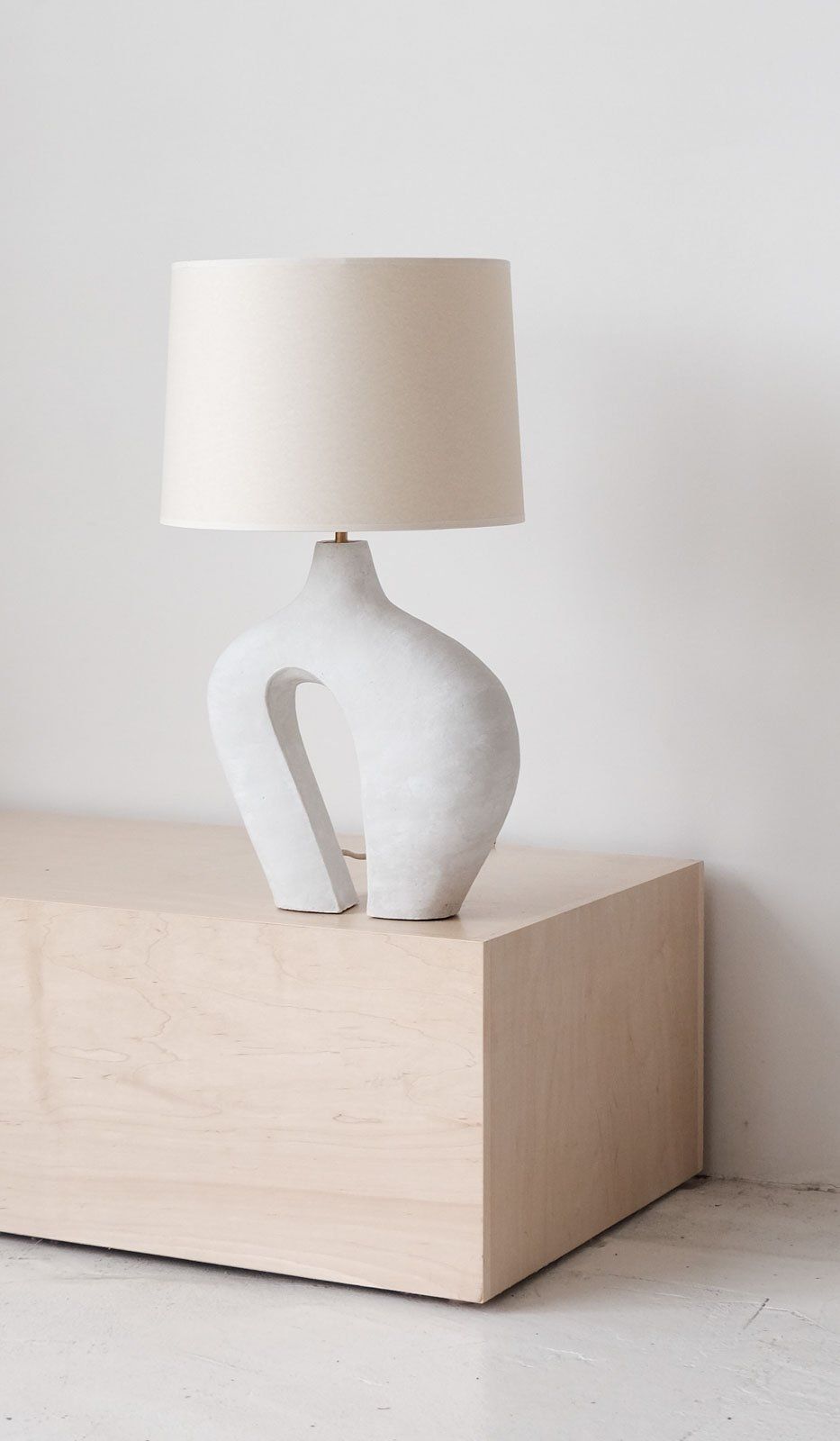 (Picture Source: Pinterest@Spartan Shop)
If you prefer a minimalist style, the lamps with clean stripes, geometric patterns, or light palettes, are ideal options to decorate your home in a modern minimalist style. Combined with the function and decoration, these lamps can be placed in any space in your home.
4. The New Ceramic Table Lamp Collections by Joyye
Joyye has been focusing on the creative ceramics homeware collections of multiple crafts for over 20 years. And here are the new ceramic table lamp collections by Joyye! We can't wait to share it with you!
(1)The Rainbow Speckled Ceramic Table Lamps by Joyye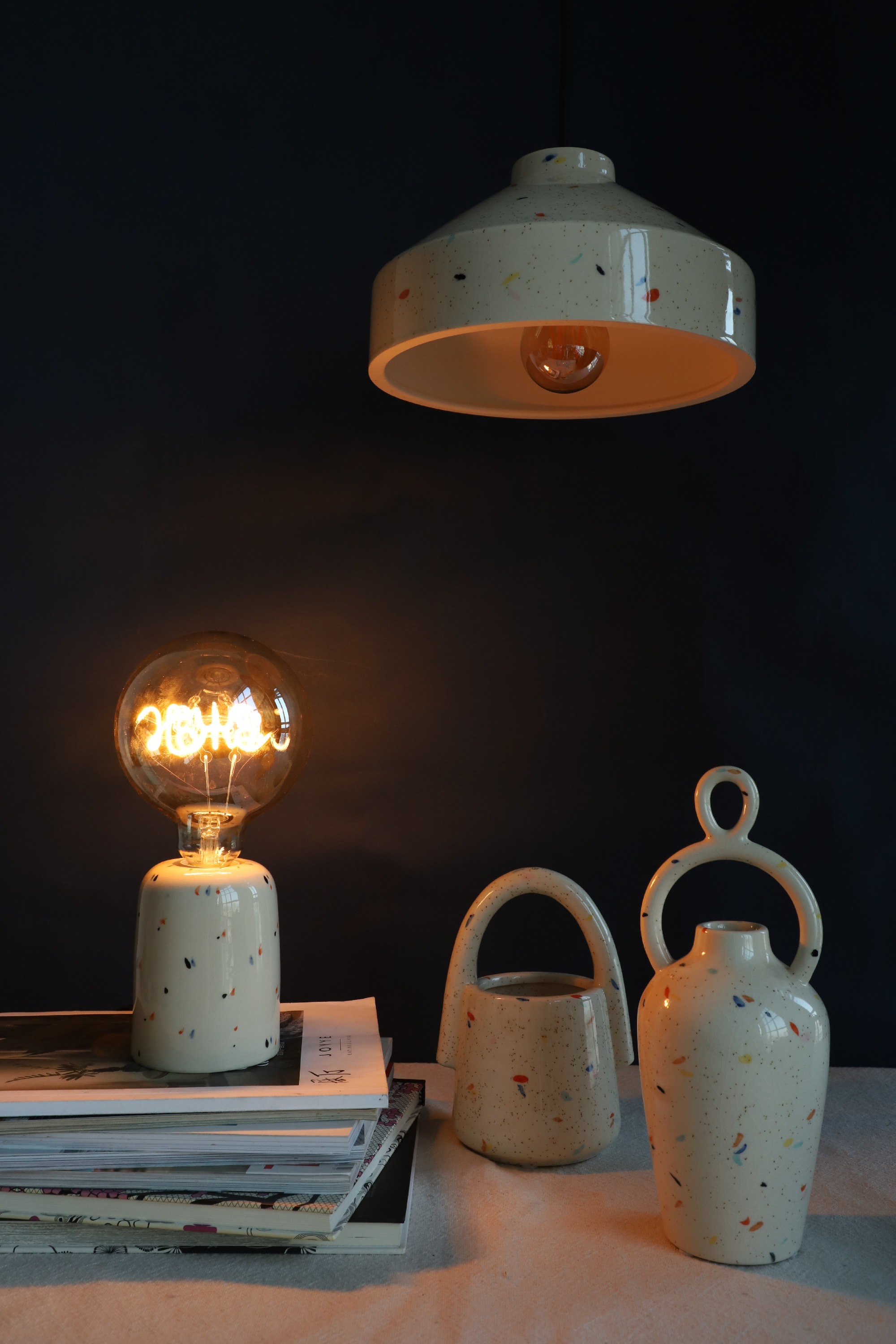 Add a chic accent to your desk or bedside with this modern lamp. With a lovely speckled base and colorful dots smooth finish, this table lamp features a contemporary and artistic look. Crafted of durable ceramic, it is easy to care for and perfect for good-looking table decor.
(2)The Vintage Footed Ceramic Table Lamp Collection by Joyye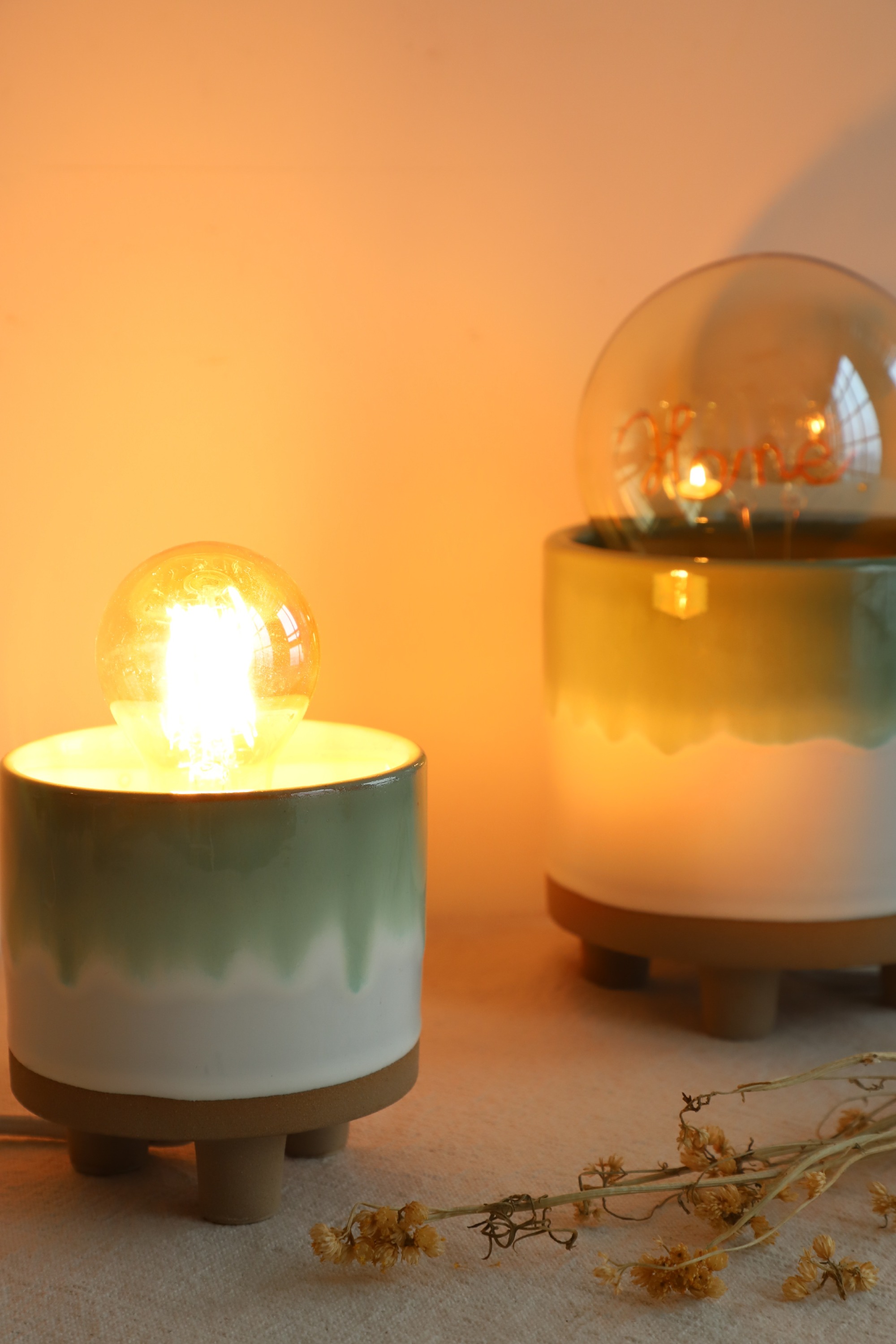 Footed designs are always trendy for planters. When it is applied to table lamps, it makes things interesting. Made from ceramic, the base has an exposed clay bottom with a double-layer reactive glaze finish for the body. It is a vintage collection working well in living rooms or bedrooms.
(3)The Chic Matte Glaze Ceramic Table Lamp Collection by Joyye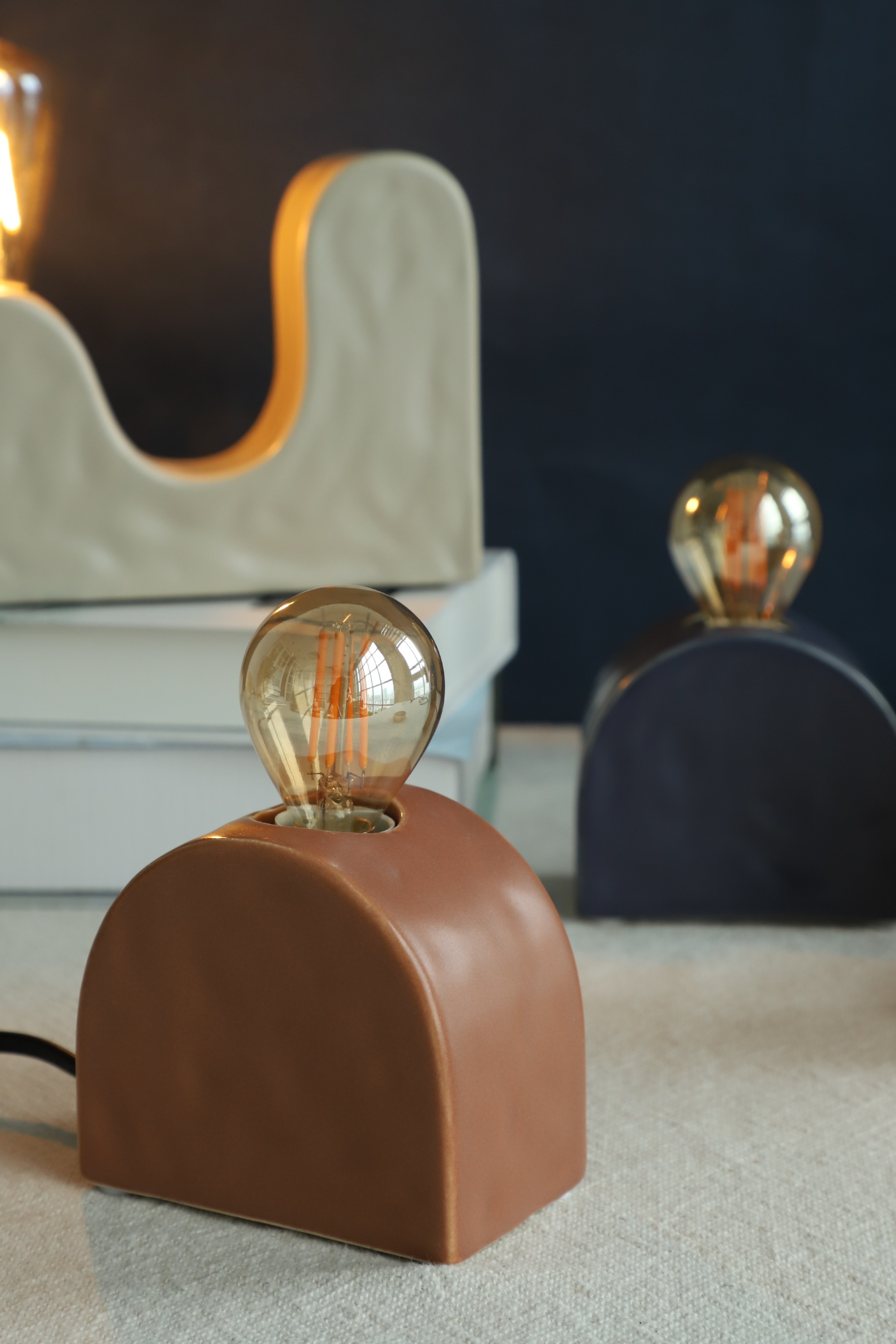 Provide bedside lighting in your bedroom with this cute ceramic table lamp. The base of organic shapes and matte finishes create a contemporary-classic look for any room style. Choose from different color options to mix and match for dressing up your room.

Use Joyye's ceramic table lamp collections to create something stunning in your home decor. Discover more multi options at Joyye, customizations are available, contact us at https://www.joyye.com/