3 Tips to Celebrate the Spring Days in Our Home
Views : 510
Author : Joyye
Update time : 2022-03-16 16:34:08
3 Tips to Celebrate the Spring Days in Our Home
Spring comes. How to celebrate the spring days and create a vivid vibe in our home in such a gentle season?
Mentioned about Spring, it may remind us of nature, flowers, light colors, and the fresh air outdoor.
Inspired by this, Joyye discovered a brand new Spring Collection to help you set your home.
1. Outdoor Living
Spring day is a cozy moment for outdoor activities. Especially when you walk around the countryside path, you will find that there are lots of little field flowers on both sides.
Those little field flowers recall us for a nostalgic touch and create a vintage country atmosphere for us. Working with various colors in the tableware collection makes them cute on ceramics, which is also quite trending.
(1) The Little Field Florals Tableware Collection from Joyye
Candy colors are always translated in a fun and bright way. When they are combined with handpainted words or simple drawings, it makes your table looks more interesting and makes you surrounded by spring senses.
(2) The Colorful Handpainted Spring Tableware from Joyye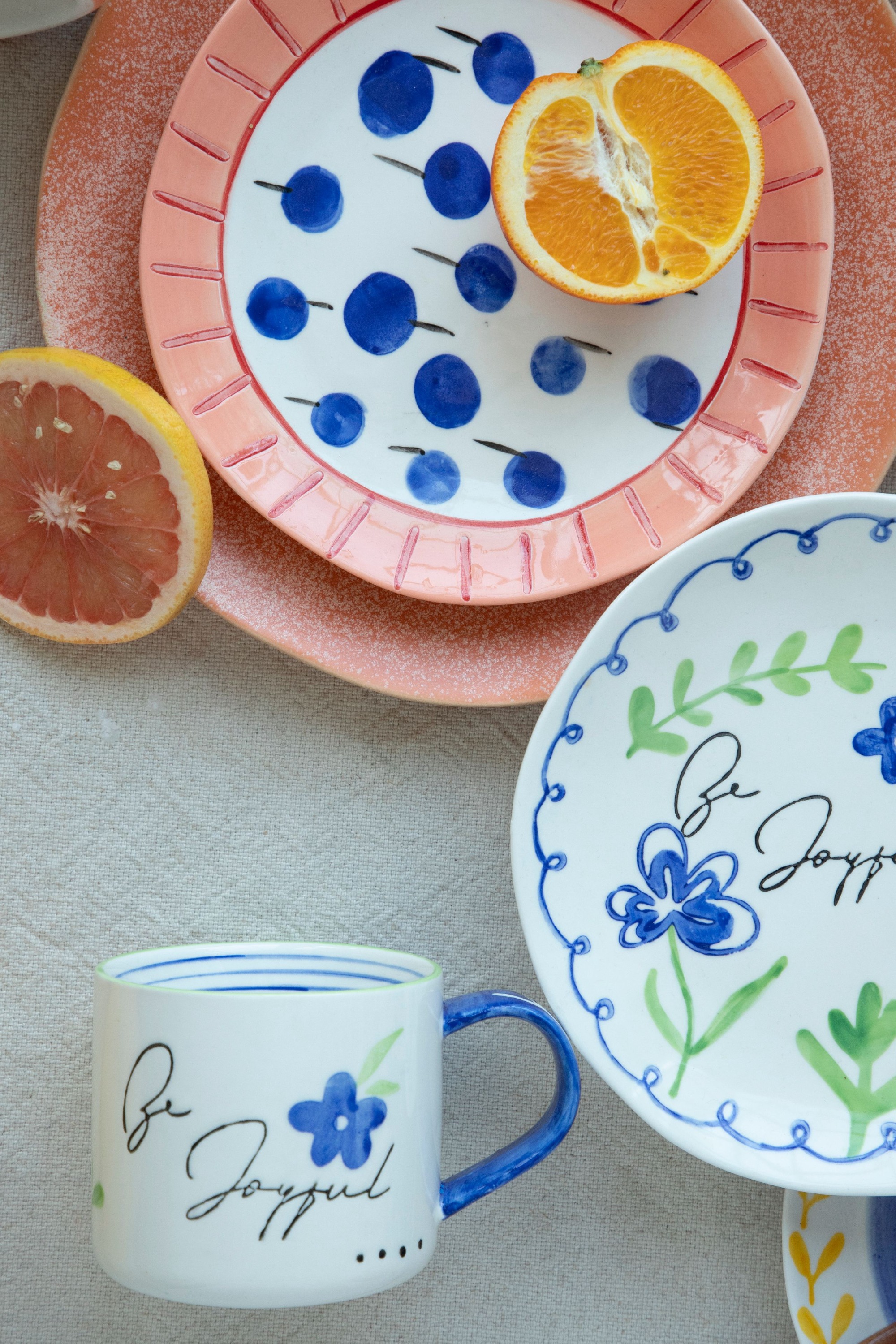 (About this design, please contact us for more details.)
When you go outdoor, do not forget your travel mugs! Colored tones in soft green and pale pink, matched the bottom lattice design, the travel mugs collection must bring you good moods. Especially the leak-proof design and the lid, they assure safety during moving.
(3) The Spring Tone Travel Mugs Collection from Joyye
2. Everyday Gatherings
It is also a season perfect for gatherings at home. Make the everyday gatherings funny and relaxed with an interesting element and a colorful tone for the table setting.
Biscuits are essential for tea time food. How about combining the cookies with mugs? It could freshen up your everyday gatherings with this unique and playful design.
(1) The Playful Biscuits Mugs Collection from Joyye

(About this design, please contact us for more details.)
Getting inspired by color blocks combination, the tableware collection is in multi soft pastel. Decorated by oval-shaped handles, mugs, and teapots both add a stylish touch to this collection.
Combining trendy soft purple, yellow and blue with vintage orange for accent, will help you add a cheeful sense to your table setting.
(2) The Ribbon Tableware Series from Joyye
Bouquet represents Hope and Life. When florals are combined with bright color and hand-paint, it speaks for the above inspiration well. Made of organic light brown stoneware, this tableware collection provides you with a vintage touch and might light up your table.
(3) The Handpainted Spring Florals Tableware Collection from Joyye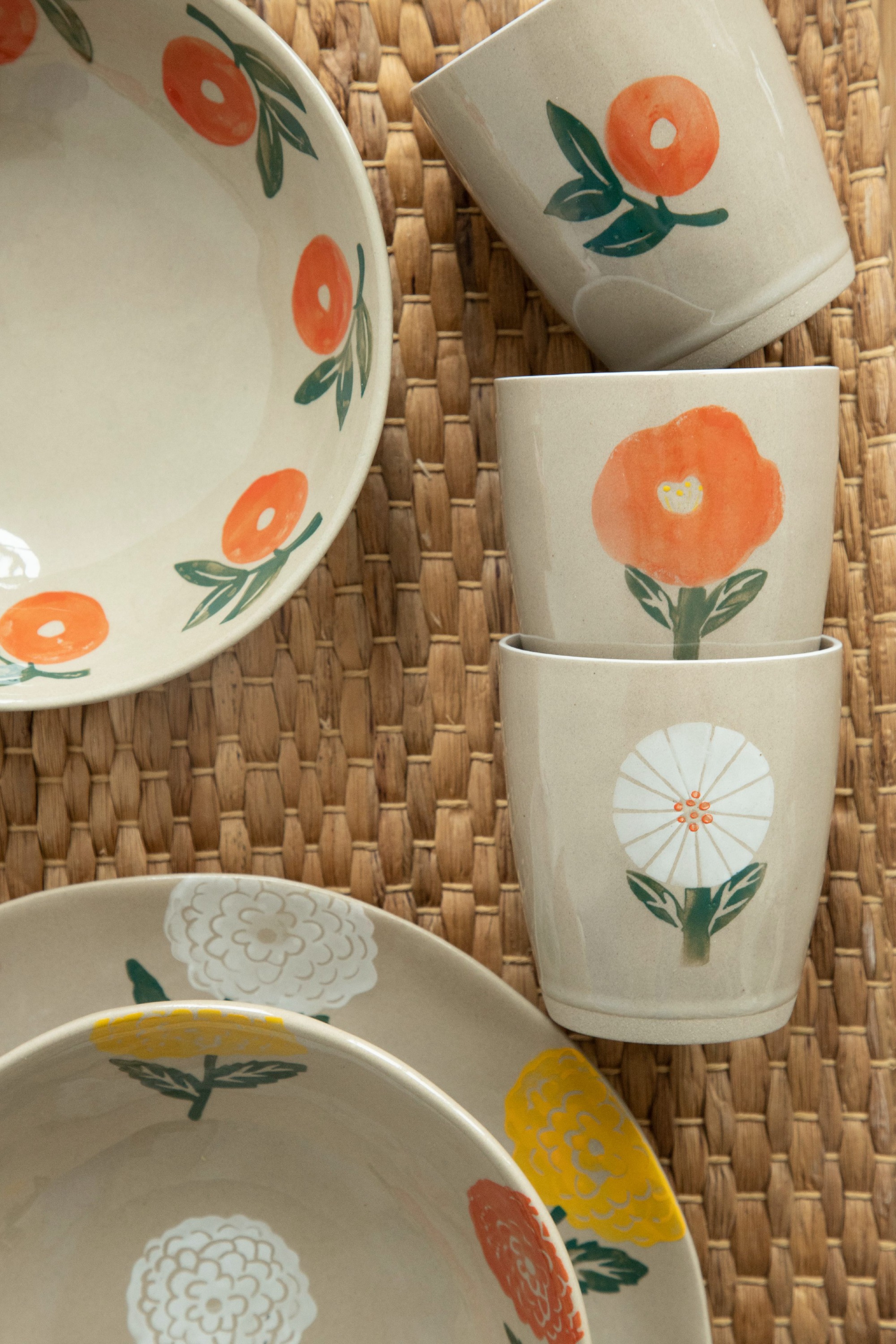 (About this design, please contact us for more details.)
3. Interior Decors
To create a green oasis at home with soft tones or playful color tones, it might give a lively feeling to your home.
Embossed with wheat patterns in milky-colored stoneware, the set of planters has a wave shape edge, which makes it looks more natural. Noted the special one in soft green, this unique planter is made in crackle glaze, adding an elegant expression to your room.
(1) The Harvest Planters Collection from Joyye
It must be a good mood when looking into these smiling and cute faces. The match between embossed and debossed crafts, also with the handpainted animal facial expression, this collection will add a vivid sense to your room.
(2) The Adorable Zoo Planter Collection from Joyye
Inspired by a rainbow, this planters collection is in layered color. It could complete the look by adding holiday vibes in these bright tones. You will enjoy a good mood when you are in such lively surroundings.
(3) The Art Dip Planters Collection from Joyye
Joyye develops the product lines to tableware, bakeware, storage jars, bathroom accessories, vases, and planters now. With a mix of multiple techniques, we have been developing in the business.
We hope to bring you a wider choice of homewares. For more information, please follow our social media accounts and visit our website: https://www.joyye.com/