Which Ceramic Kitchenware Is Best
Views : 757
Author : Joyye
Update time : 2023-01-20 22:12:02
Which Ceramic Kitchenware Is Best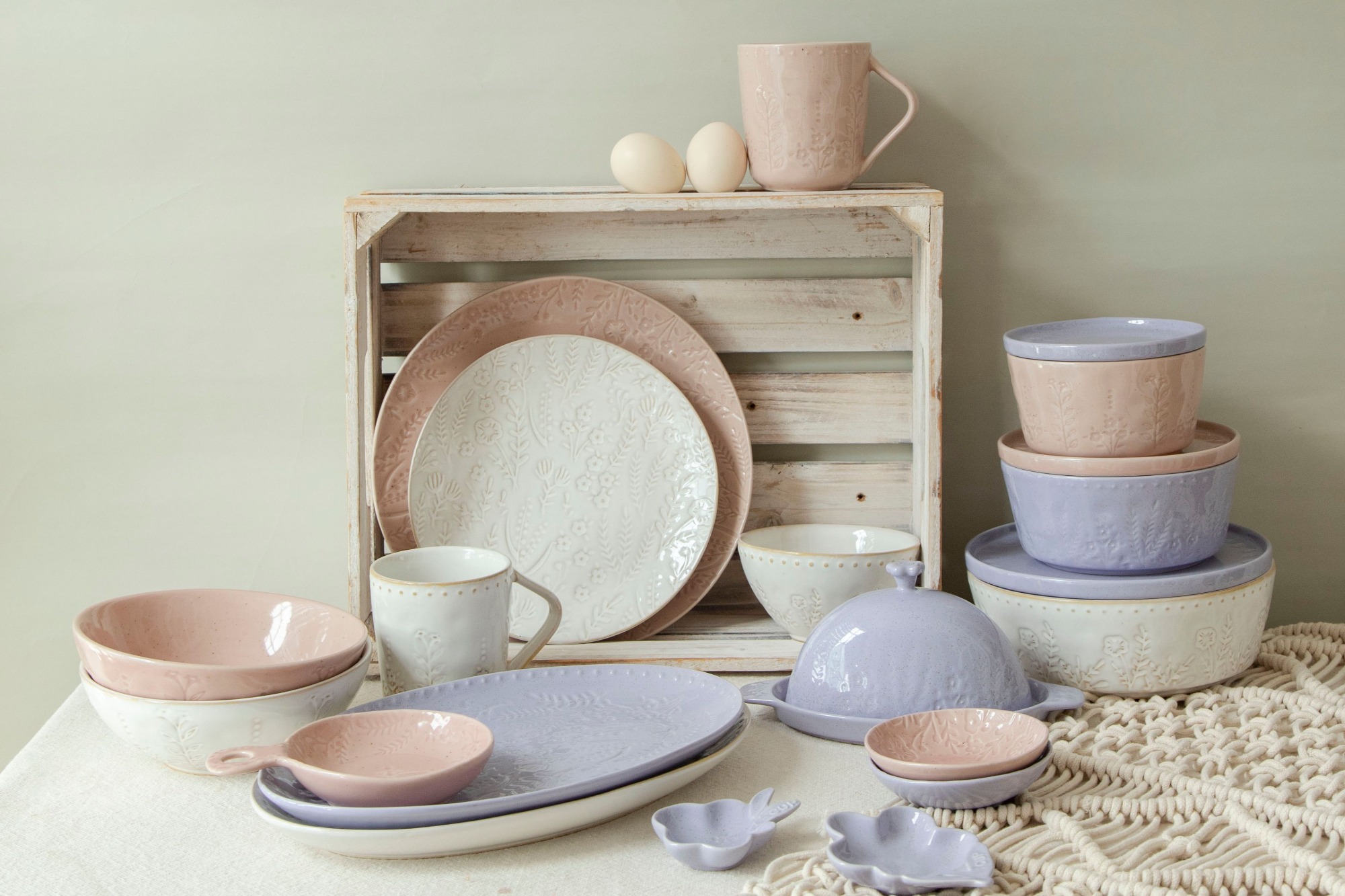 Compared with traditional nonstick pots or other material types of kitchenware, ceramic kitchenware is a nice option and provides a good performance. As it is a great insulator, it has a not quick reaction to heat, which makes it perfect for a casserole dish and great for cooking slowly at a constant temperature.
Before we dig more into ceramic kitchenware, maybe we should have a quick look at the types and shapes of kitchenware.
1. Types of kitchenware
The first thing you should confirm is what kind of cooking you want to do. Different kitchenware offers various functions.
(1) Baking Dish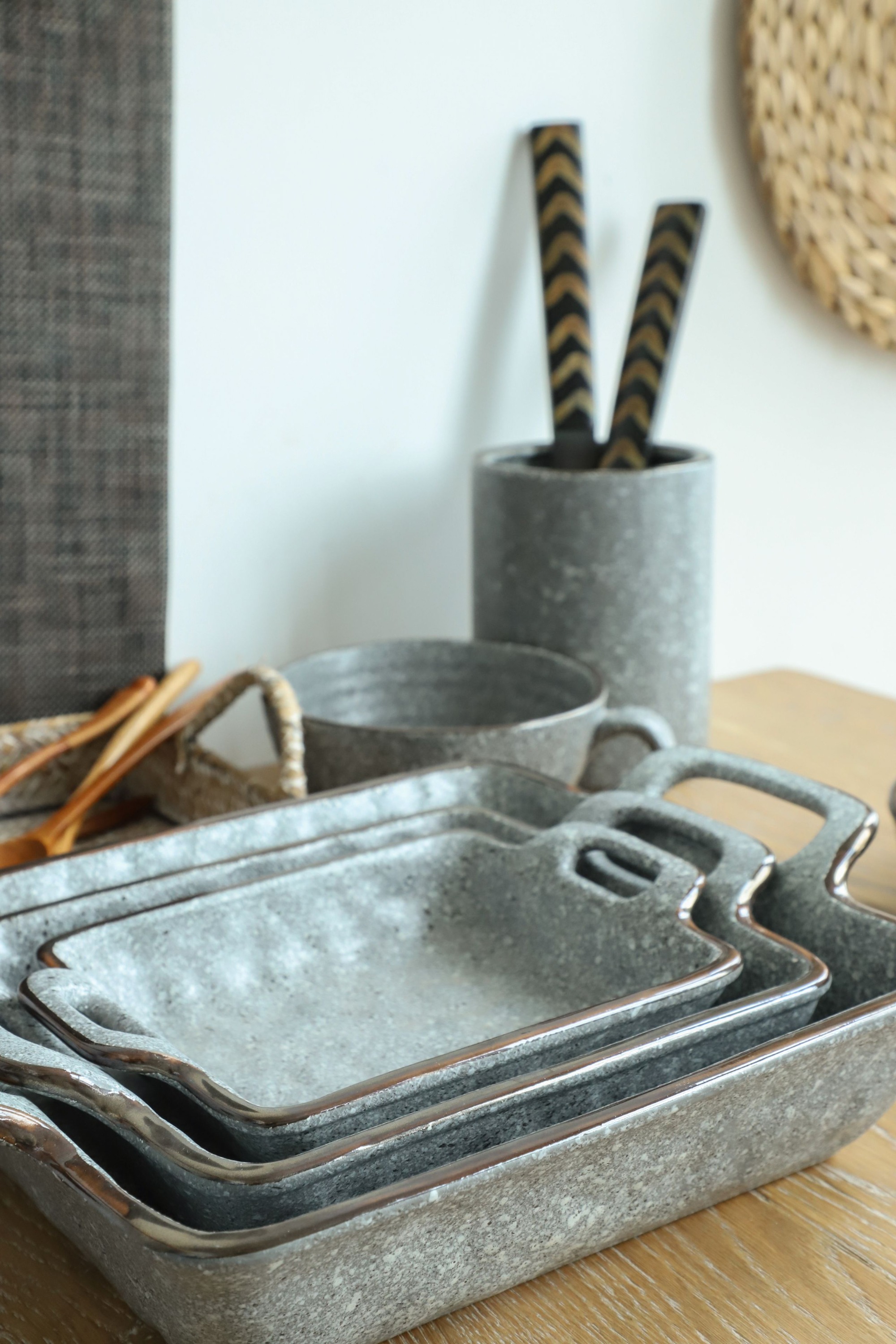 (Joyye Design)
The baking dish is an oven-safe dish made of different materials, and also comes in rectangular, square, or oval shapes, varying in size and depth.
A baking dish is perfect for desserts such as fruit crisps, cobblers, and bread puddings, also suitable for casseroles dish and potatoes au gratin.
(2) Pie Dish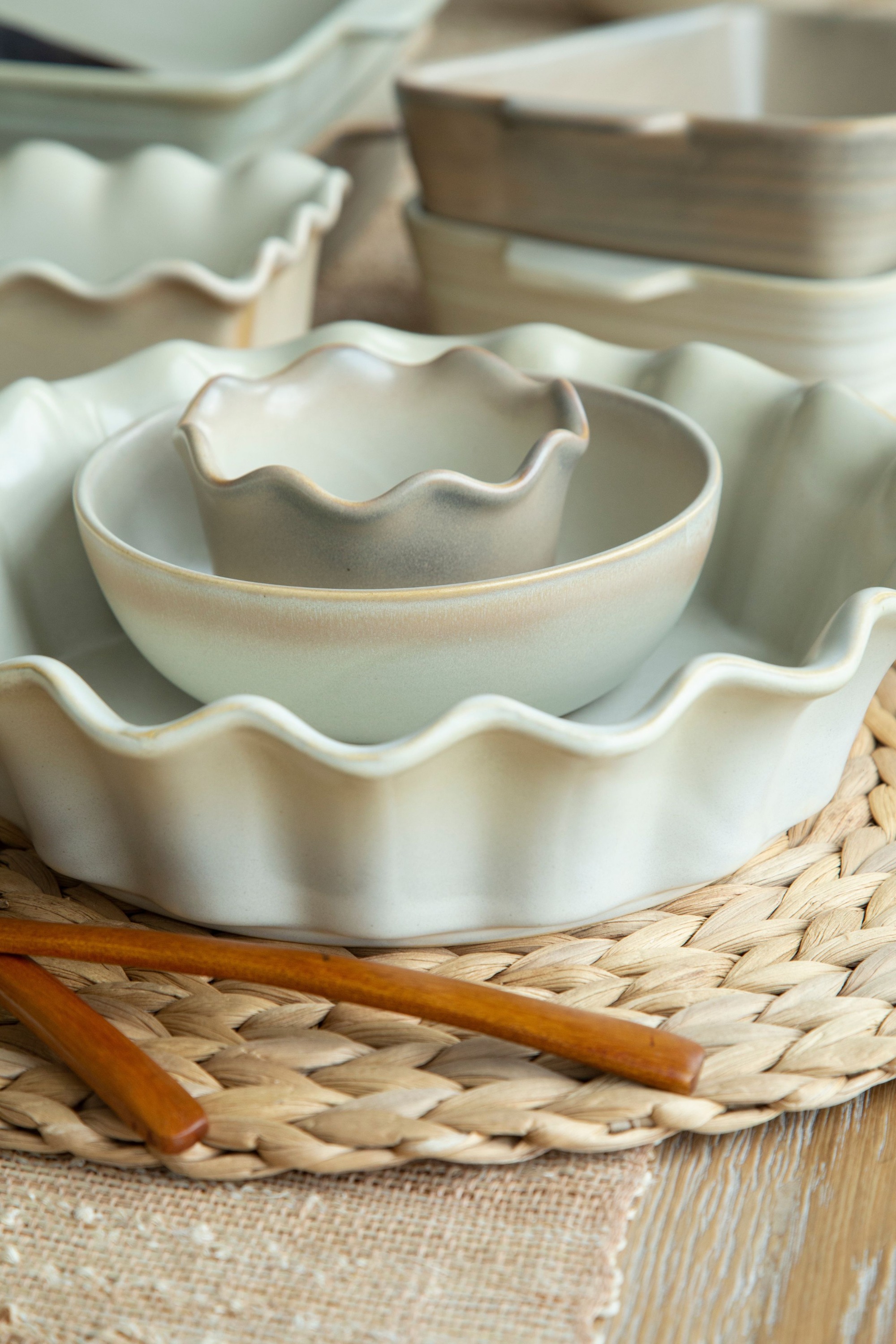 (Joyye Design)
We all love pies, the food that brings us comfort and sweetness. And the selection of pie dish can make a big impact on baked pies.
Ceramic pie dishes can also be serving dishes, which look good on the table and are best for pies with pastry or potato tops.
(3) Muffin Pan

(Joyye Design)
A muffin pan is the same as a cupcake pan and it can be used to bake cupcakes, muffins, and savory dishes, like egg cups.
(4) Loaf Pan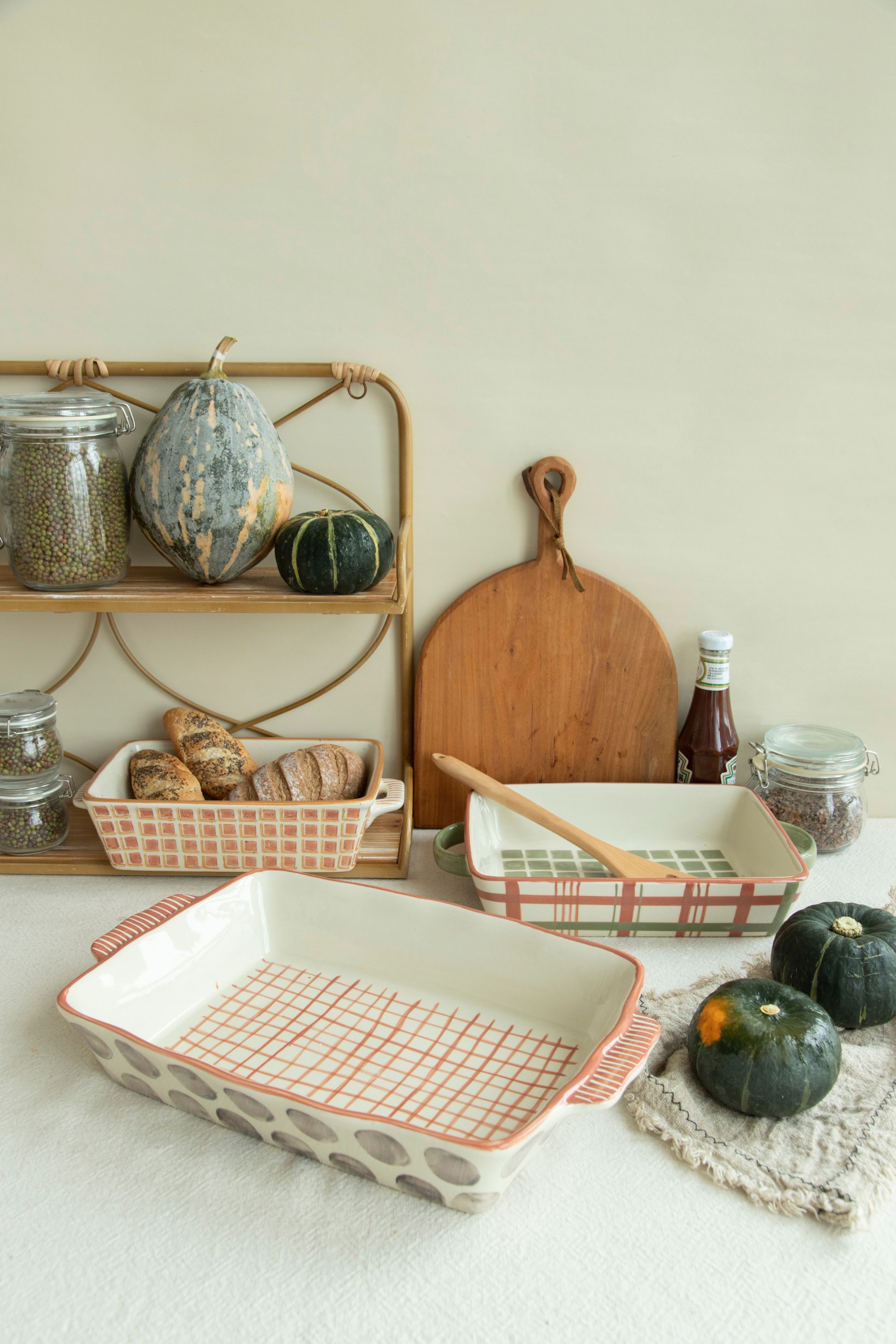 (Joyye Design)
A loaf pan is also called a bread pan, which features the function is to shaping bread while it is rising during baking. It comes in a loaf, or narrow rectangle shape which is a convenient form for uniform slicing.
(5) Canister
(Joyye Design)
Canisters are traditionally used to store flour, sugar, or cookies on the kitchen counter, as it also styled in kinds of design, sizes, and shapes, it is great for home decoration and styling of your kitchen.
(6) Cake Stand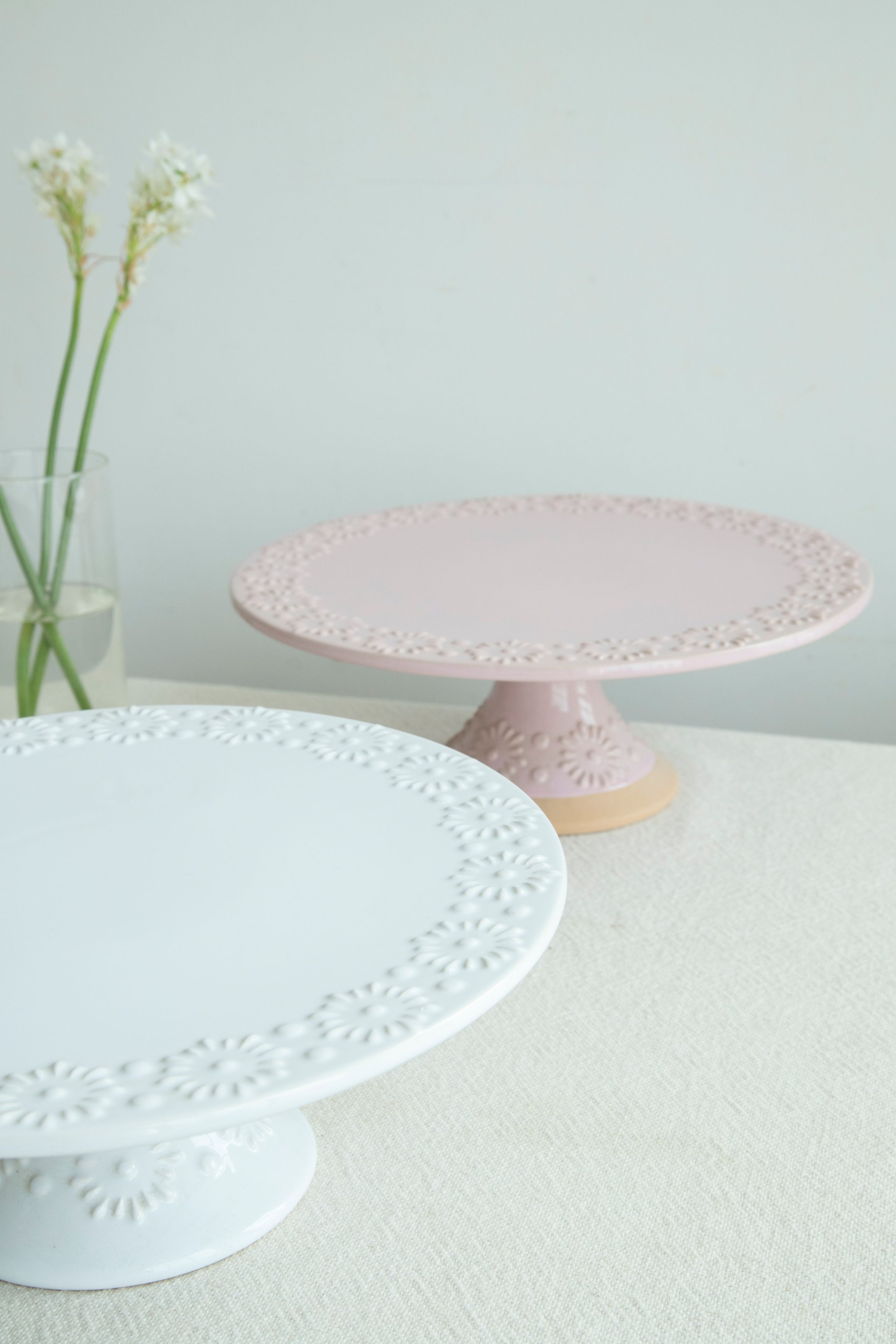 (Joyye Design)
Cake stands often show up at a wedding, birthday, or afternoon tea time, to hold your sweet desserts.
Pedestal stands are the most commonly used types, often seen in coffee shops or bakeries. As it comes in different materials, ceramic is the most popular material for it.
2. Ceramic Materials
After knowing some about the kinds of kitchenware pieces, it's time to learn more about that which types of ceramic materials will work best for you.
(1) Ceramic
Ceramic kitchenware offers the goodness of high-heat resistance, evenly heated, and nonstick features. They are easy to clean and handle and stand up to harder tests. It is lighter than cast iron, but it is also more fragile and its glaze tends to wear quicker than traditional nonstick.
(2) Porcelain
Fired at a high-temperature range between 1300-1350℃, porcelain is a kind of ceramic that is completely porcelainized, with good hardness and strength. It is resistant to rapid cold and rapid heat, denser and non-porous, and more durable than stoneware. But it can not be made in rich color.
(3) Stoneware
Stoneware is a kind of ceramic that is fired at a high-temperature range between 1200-1250℃. The colors on it are more clearer and visible, so hand painting and colorful glazes are perfectly suitable for the stoneware. It is more durable and is in high-temperature resistance. But the adobes are heavier.
3. Joyye Recommendations
Joyye often updates new designs to catch the latest trend for home decoration. There are some chic styles of kitchenware out there that can refresh your kitchen counter or dining table.
(1) When Spring Comes
When it comes to Spring, it reminds us of romance, cozy and soft. Pink, purple, and light tones are the mainstream.
A. Pink and Purple Debossed Cookware
Set up a dreamy table setting at home.
Debossed with tiny plants and glazed in soft pink or purple with speckled designs, such a gentle color combination brings this cookware collection a dreamy sense. It is a great piece for a kitchen or dining table setting.
B. Light Candy Bakeware Collection
Candy colors are always translated in a fun and bright way. When they are in light and powdered pastels, it makes them less candy and more home interior feeling.
The bunny-ears-like lid expresses a fun and vivid vibe, making this collection perfect for Spring and Easter.
(2) Catch Vibrant SummerTime
Summertime is easy to recall the sea, it is blue and bright, expressing the vibrant summer. Getting inspiration from blue and shiny tones, we got these lovely designs.
A. Bright Tones Reactive Glaze Cookware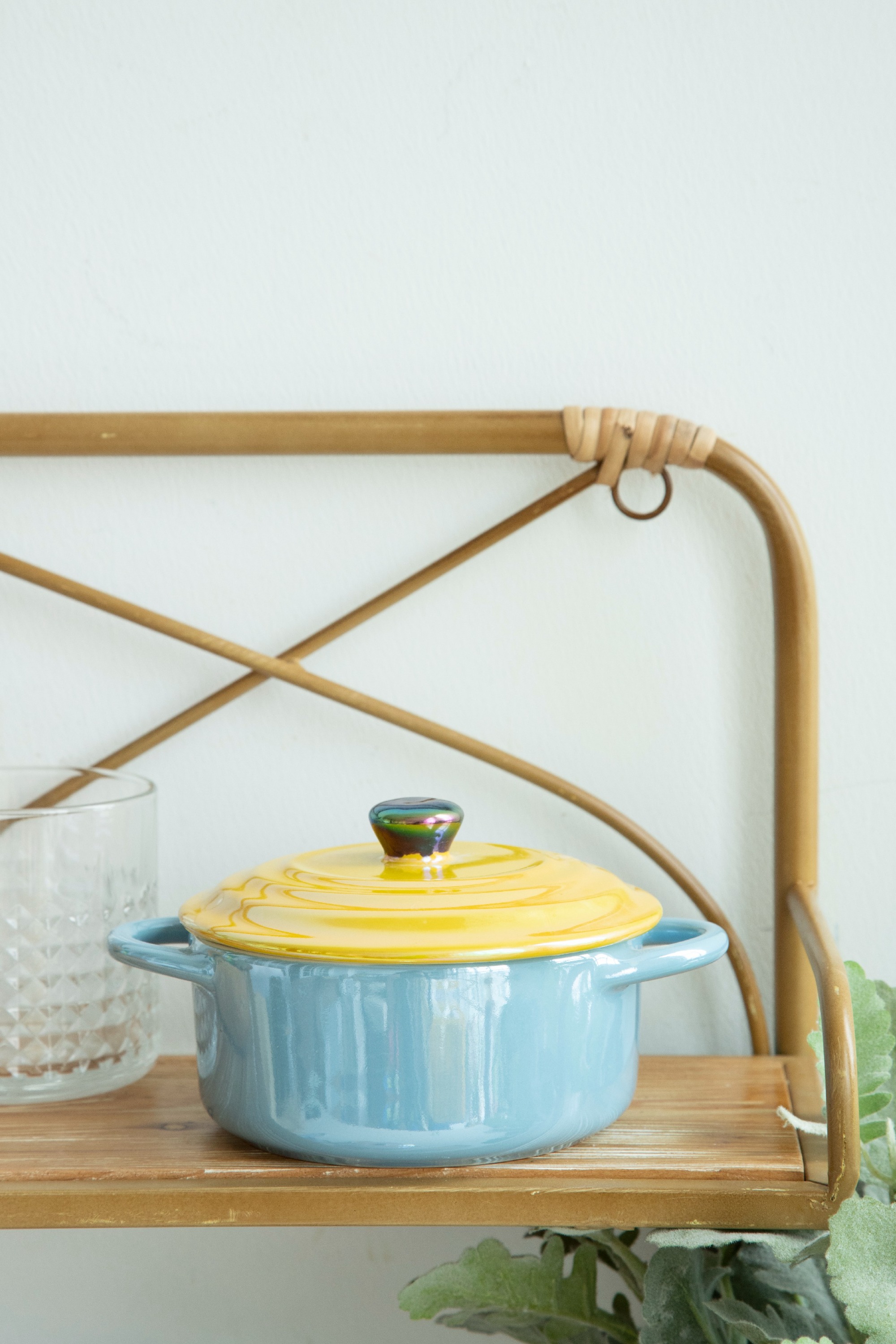 When bright yellow meets ice blue, it brings a bit of cool in this summer. Smaller cookware sets featured in such lovely pink reactive glaze, complete this cute look.
B. New Chic Farmhouse Style Cookware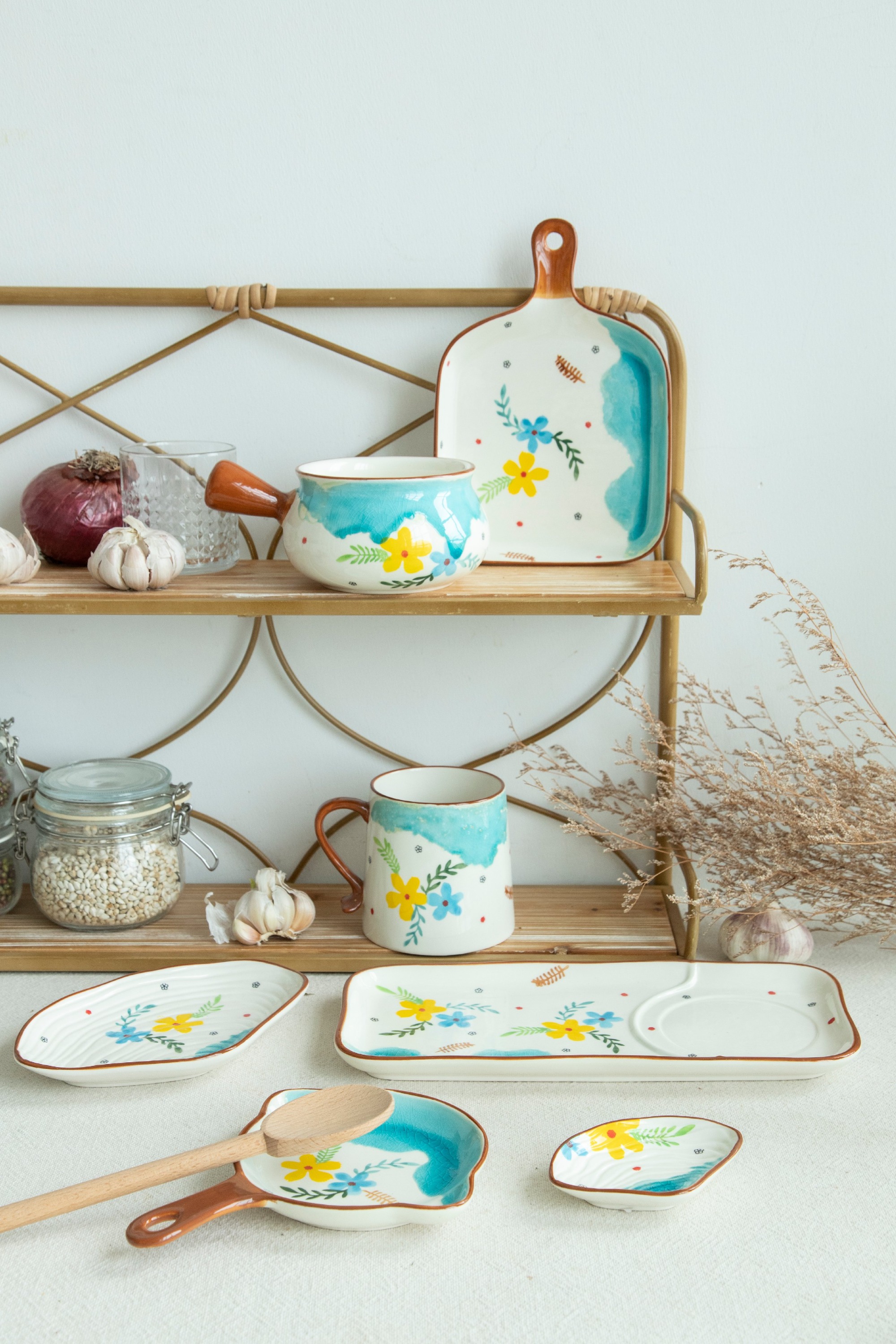 (Link: https://bit.ly/3iQs3Ev)
Spawn a new chic farmhouse-style vibe when you set this cookware collection on your kitchen table.
This cookware set has various shapes with rich pattern finishes, and crackle glazes combined with handmade stamping complete the collection with an adorable painting look.
(3) Feel Quiet Autumn
Gentle earthy tone, pumpkin, and ardent orange all complete a typical autumn vibe.
A. Soft Earthy Tone Speckled Pumpkin Cookware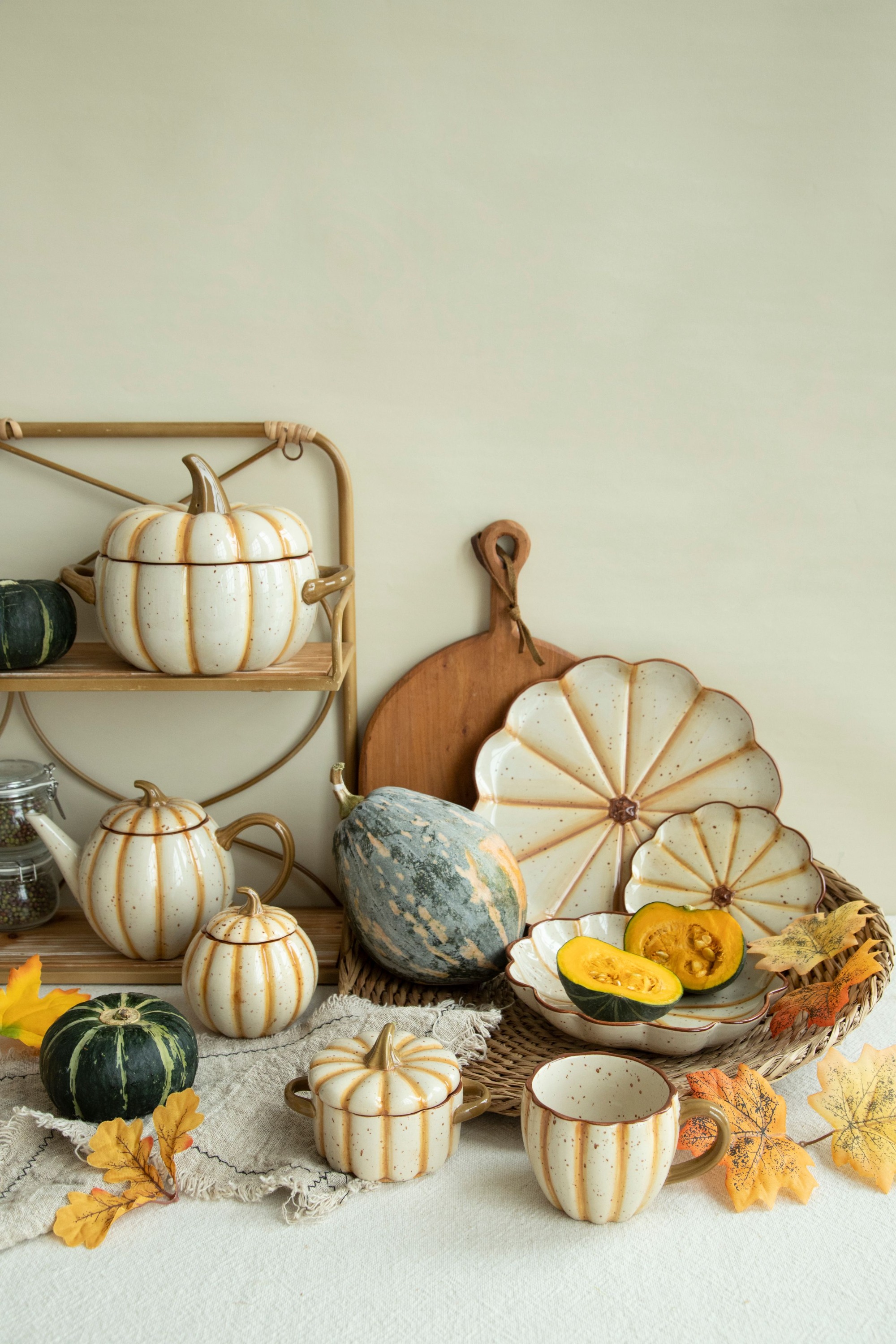 It's all about bringing autumn vibes home. Cookware designs are still inspired by the pumpkins using the colors of soft earthy tone, mute orange, and brown.
As they are made of stoneware, it allows the cookware extremely durable and does not cracks or chip easily. Lovely splash speckles compliment this warm look.
B. Autumn Pumpkin Cookware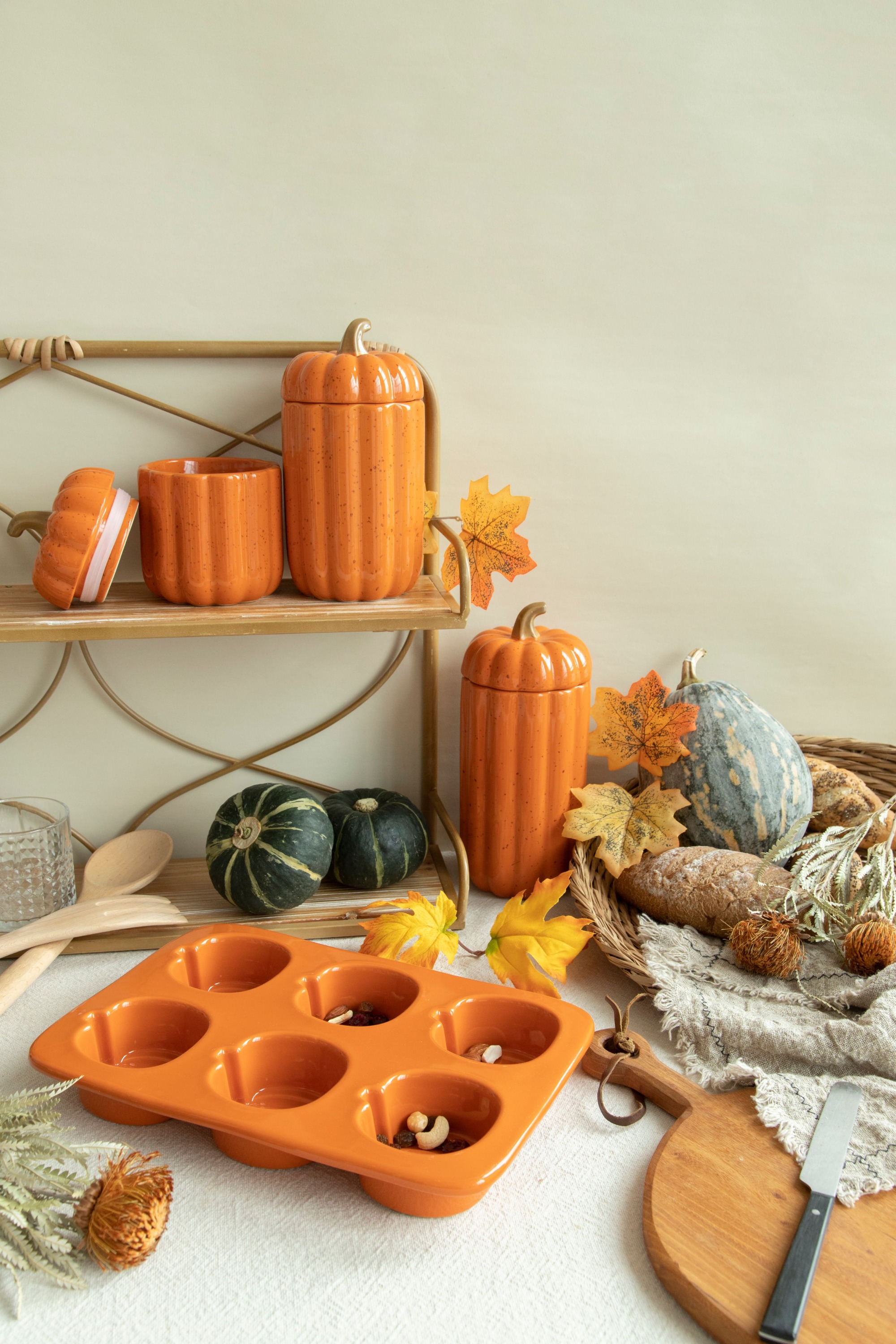 (Link: https://bit.ly/3Hk6ZzR)
Autumn seems to belong to the pumpkin. Shaped in different-sized pumpkins, and glazed in bright orange hues, it will add more dynamic to the kitchen.
Inspired by maple leaves, adding speckle details to the eye-catching orange glaze, is the key accent for the whole set look.
(4) The Cold Winter
A cold season makes us feel mysterious, unapproachable, and elusive. Black and white are perfectly translated for this feeling.
A. Black Pearl Cookware Collection
With its black pearl-liked outlook, this cookware collection adds visual appeal to any space and is great for a delicate dining room or a chic kitchen.
Get the elegant look of marble in a ceramic vessel and a contemporary, luxury glaze finish.
B. Twilight Bakeware Collection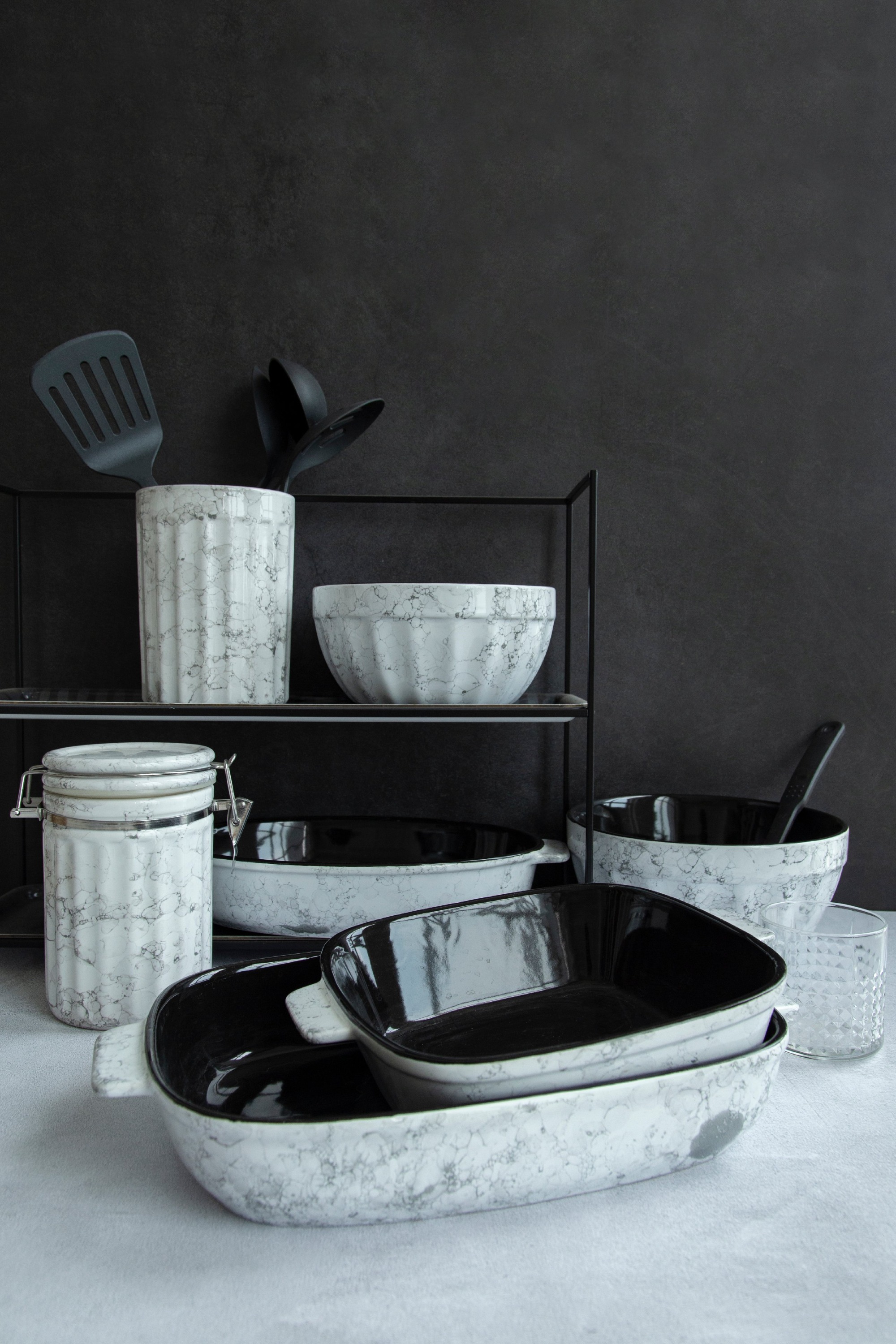 Made of black and white stoneware with a water mist shape glaze, Twilight Bakeware Collection is inspired by the dusk in Winter. Also available in different shapes and sizes for every home style.
As you can see, Joyye is keeping our ways on ceramic kitchenware that also catch the trends. We are dedicated to providing creative ceramic homeware with multiple crafts and techniques of stable quality. If you are interested in our products, please contact us for catalogs and more details, reach us at
https://www.joyye.com/