4 Romantic Homeware Ideas for Valentine's Day in 2023
Views : 469
Author : Joyye
Update time : 2023-02-14 09:52:32
4 Romantic Homeware Ideas for Valentine's Day in 2023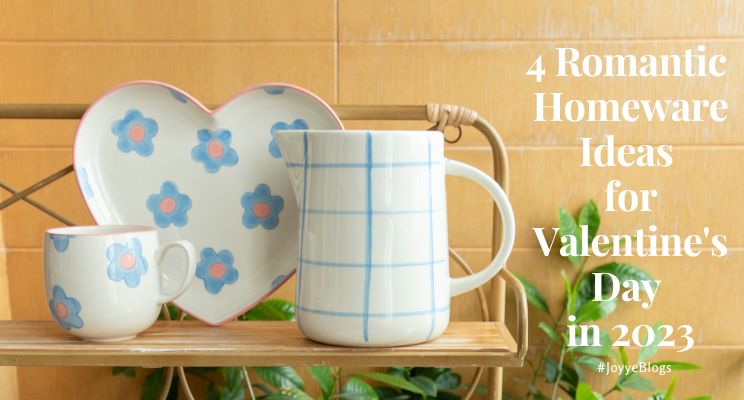 Dream in color romance to light up your Valentine's day. Why not make the day special by dressing your home up with a list of romantic-colored homeware? It will be the most impressive day of the year.
1. Set the table in sweet pink and blue




The color tones you select for dinnerware sets help to create a sweet table setting. Pale pinks and sky blues provide a fresh look, plus heart-shaped bowls and platters, make cozy and perfect Valentine's table decorations.
2. Prepare a meal with soft purple and pink cookers




For an impressive Valentine's Day meal, prepare it with a cookware collection in elegant purples and dreamy pinks, it will add a relaxed and romantic touch to the coming dinner.
3. Create the ambiance by adding lighting




Lighting is a good helper in making the atmosphere and why not create a sweet ambiance with lovely lighting? Not even the table lamps but also the candle holders can be set in any room, decorated on a bedside table, a coffee table, or even a sill.
4. Decorate your home with unique vases




Feel a unique touch of romance with classic blue and green. A bouquet of flowers might be a classic Valentine's gift, you can fill vases with your romantic flowers, or even only group the vase collection together for a different decoration.
5. Joyye 2023 unique romantic home decor collections
(1) The Handpainted Flowers Heart-shaped Tableware Collection by Joyye




When heart-shaped plates and bowls with flowers stamped and hand-painted stripes, match regular round-shaped mugs, a whole set of tableware completes a country romantic look. Glazed in pastel pink and mute blue, it adds a more dreamy vibe to any room.



(2) The Pink and Purple Debossed Cookware Collection by Joyye




Set up a dreamy table setting at home! Debossed with tiny plants and glazed in soft pink or purple with speckled designs, such a gentle color combination brings this cookware collection a dreamy sense. It is a great piece for a kitchen or dining table setting.



(3) The Romantic Summer Ceramics Candleholder Collection by Joyye




Shaped like a taper with a flat bottom, the set of colorful candle holders comes in tiny speckled glazes with biscuit-like handles that complement your tablescape for a romantic look.



(4) The Rainbow Speckled Ceramic Table Lamps by Joyye




Add a chic accent to your desk or bedside with this modern lamp. With a lovely speckled base and colorful dots smooth finish, this table lamp features a contemporary and artistic look. Crafted of durable ceramic, it is easy to care for and perfect for good-looking table decor.



(5) The Glam Blue Vase Collection by Joyye




Dream in romantic blue! A vase collection overwhelmed with romantic blue tones, grouping the shiny and matte ones together, dressing up with a hanging glazed design, shaped in kinds of styles, must be an enchanting home decoration idea.



(6) The Green Romantic Style Vase Collection by Joyye




Feel the style of green! Explore a new vase collection with 4 kinds of various green styles.No matter the hand-painted feeling or an organic reactive glaze look, or elegant crackled glaze vibe, or a fresh matte speckle style. It is flexible to group them again or set them apart alone for chic home decor.
More than romantic, Joyye provides diverse styles for ceramic homeware, if you're interested in our designs and products, please get in touch with us at www.joyye.com